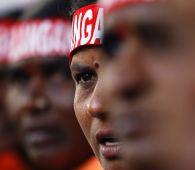 The Group of Ministers on Telangana is likely to take up six official amendments to the Telangana Bill on Monday. The GoM will have daily meetings on the issue for three days from February 3 in New Delhi.
The GoM is expected to finalise February 14 as the date for introduction of the Telangana Bill in the Lok Sabha by Home Minister Sushilkumar Shinde. The tentative schedule has been worked out informally between Shinde and Minister for Urban Development Kamal Nath, sources said.
The GoM report will be submitted to the Union Cabinet on February 10 before the bill is sent to President Pranab Mukherjee for his assent to introduce it in
Parliament.
The GoM is also expected to draw up dates, strategies and work out modalities to introduce the Telangana Bill in Parliament.
Shinde has directed the Committee of Secretaries to draft six official amendments like the Polavaram multi-purpose irrigation project and giving assurances to the people in the Seemandhra area to build an international airport.