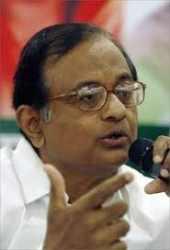 Finance Minister P Chidambaram on Saturday said the fiscal deficit for 2012-13 will be better than 5.2 per cent as tax collection target of over Rs 10.38 lakh crore has been achieved.

"As always there will be some savings (on expenditure). So what does it mean ... if we reach the revenue target and if there are some savings, the fiscal deficit will be better than 5.2 per cent that I have projected," Chidambaram told reporters in New Delhi. He, however, did not "hazard a guess" on the actual fiscal deficit number for 2012-13.
On revenue collections, Chidambaram said while there was a slippage on direct taxes front, the indirect tax mop up has exceeded the revised estimates. "In the indirect taxes there was excess over the target. In the direct taxes, there was a shortfall over target. But overall we have achieved the target of over Rs 10.38 lakh crore," he said, adding that the revenue growth in 2012-13 was 16.7 per cent.
He said this revenue growth is "commendable" in the "difficult year" of 2012-13 when the economic growth is expected to be 5 per cent or a shade above it.
The revised estimates were to collect over Rs 5.65 lakh crore from direct taxes and Rs 4.69 lakh crore from indirect taxes. Total expenditure was pegged at Rs 14.30 lakh crore. With savings in expenditure, the fiscal deficit is expected to be lower than 5.2 per cent as projected in revised estimates.
As per government's fiscal consolidation road map, the gap between revenue and expenditure is to be brought down to 4.8 per cent by 2013-14 and 3 per cent by 2016-17.
The finance minister also exuded confidence that the revenue target for 2013-14 financial year would be achieved as the GDP growth is likely to be over 6 per cent.
"Revenue target of 2013-14 is achievable ... because we believe GDP will grow by 6 per cent or above 6 per cent," he said.