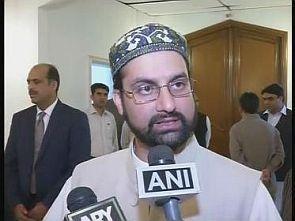 A defiant Pakistan on Wednesday made it clear that it will continue talking to Kashmiri separatists despite India's protestation, saying that the "bottomline" for Indo-Pak talks on Kashmir issue was to engage all stakeholders and dialogue was not a favour by Pakistan to India or vice versa.
At the same time, Pakistan High Commissioner Abdul Basit said his country "attaches enormous importance" to its ties with India and that there was no need to be "pessimistic" about cancellation of the Foreign Secretary-level talks.
"We need to engage with all stakeholders. It is not a question of either, or as far as we are concerned. We are engaging with India to find peaceful ways," Basit said during an interaction with foreign journalists here while reacting to India's stand that Pakistan should either choose dialogue with separatists or Indian government.
Justifying his meeting with the Kashmiri separatists, which was objected to by India, Basit said, "We strongly believe that our interaction is helpful to the process itself. It is helpful to find peaceful solution to the problem. It is important to engage with all stakeholders. So that is the bottomline for us."
The Pakistan top envoy said calling off the August 25 talks between foreign secretaries of the two countries by India was a "setback" but noted that it should not discourage the two neighbours from resolving the Kashmir issue.
Asserting that he has not breached any protocol by holding talks with Kashmiri separatists, Basit said, "This has been a long-standing practice. We have been meeting the Kashmiri leaders...It is important to engage with all the stakeholders to find a peaceful solution to the issue."
India had called off the talks between Foreign Secretaries slated for August 25, telling Pakistan bluntly to choose between an Indo-Pak dialogue or hobnobbing with the separatists.
Asserting that "Dialogue is not a favour by Pakistan to India or vice versa", Basit said Pakistan remains committed to promoting peaceful, result-oriented and meaningful dialogue process.
Noting that Kashmir was a "bilateral dispute", he said there was no need to be "pessimistic" about cancellation of the Foreign Secretary-level talks and that both the countries should move forward.
"So the setback should not disappoint us, discourage us to finding ways and means as to how to take the process forward in line with our leadership's visions on both sides of the border. So, we will try our maximum to see as to how this process can be taken forward," Basit said.
He said Pakistan understands that it was a "complex situation" but added it was positive and will not allow distractions to come in the way of finding solutions to the problems.
Basit said the Kashmir issue should be looked at "dispassionately" and asserted that the aim of his meetings with the Kashmiri separatists was to find a viable solution to the issue. He said Indian diplomats in Islamabad also meet people from all hues.
But the Pakistan envoy parried a question on whether his government will allow Indian diplomats to meet local leaders from Baloch region.
On cooperation among SAARC-member countries, Basit said, "Sky is the limit if SAARC is vitalised".
Ahead of the talks in Islamabad, Basit had invited separatist leaders from Kashmir "for consultations".
Pakistan envoys had in the past too talked to separatists from Kashmir before any major diplomatic initiative with India.
However, Islamabad broke from this practice when Pakistan Prime Minister Nawaz Sharif visited India to attend the swearing-in ceremony of Prime Minister Narendra Modi in May this year. Sharif was severely criticised in Pakistan for not meeting Kashmiri separatists.
Asked whether there was possibility of any meeting between Modi and Sharif in New York on the sidelines of the UN General Assembly next month, he said it would be wrong to speculate as nothing has been finalised.
On the ceasefire violations along the LoC, Basit said as per Pakistani side, there have been 57 alleged border violations by the Indian troops since July last year for which Pakistan had served demarche.