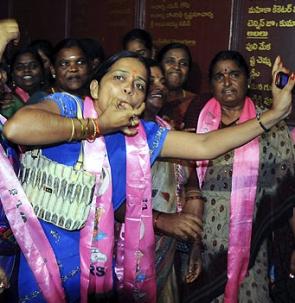 After Lok Sabha successfully passed the Telangana bill, the government on Tuesday said it will immediately bring the legislation in Rajya Sabha.
Parliamentary Affairs Minister Kamal Nath said the Andhra Pradesh Reorganisation Bill will be brought in the Upper House "immediately", along with the 38 amendments approved by Lok Sabha.
Talking to reporters outside Parliament House, he attacked the Bharatiya Janata Party for playing a "double game" on the controversial Telangana issue.
"The BJP has said the bill is unconstitutional. But they still supported it. This shows their double game. They stand exposed," Nath said.
The bill to carve out Telangana state from Andhra Pradesh was passed by Lok Sabha amid din and strong protests by members from Seemandhra region, including ministers.
The Andhra Pradesh Reorganisation Bill, 2014, was adopted by a voice vote along with nearly 38 official amendments, with main opposition BJP coming on board.
Image: A pro-Telangana activist celebrates ' Photograph: SnapsIndia