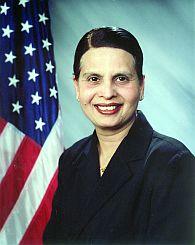 Erstwhile Iowa state legislator Swati Dandekar, a Democrat, who served both in the Iowa House of Representatives and the state Senate, has announced her plans to run for the 1st District US Congressional seat.
"Over the past several weeks I have been encouraged by friends across the district to enter the race," Dandekar, winner of the inaugural India Abroad Person of the Year 2002, said.
"I am honoured to have served in the Iowa legislature and then to be given the opportunity to serve as member of the Iowa Utilities Board. I am exploring the opportunity to once more serve in elected office because I know it is important to the people living in Northeast Iowa to continue the strong representation established by United States Representative Bruce Braley."
Dandekar said she would spend the next few weeks talking to voters in the 1st District and make a thorough assessment of the race. "I will make a final decision sometime this summer," she added.
Dandekar represented the Marion area in the Iowa House of Representatives from 2003 to 2009 and in the Iowa Senate from 2009 to 2011.
In an interview to rediff.com, she said that since (United States) Senator (Tom) Harkin announced that he was not running for re-election next year, people were encouraging her to run for Congress.
"People were also calling me, leaving messages, and constantly telling me that I should run. There was also a draft Swati campaign," she said.
"So, finally, I said, OK, I am with you and decided to formally announce an exploratory committee."
Dandekar acknowledged that it would be a tough primary race because the former speaker of the state House Pat Murphy has jumped in the fray.
Other Democrats are expected to announce too and the Republicans running in this 20-county district are businessman Steve Rathje of Cedar Rapids and Rod Blum of Dubuque.

Asked if she had been assured of support from the Democratic Party, namely the Democratic National Committee and the Democratic Congressional Campaign Committee, Dandekar said, "Once you form the exploratory committee and you formally announce, then you meet with them."
She added, "Congressman Braley and US Representative (Dave) Loebsack, have been very kind to me and they are giving me ideas on how to do that and approach them (the Democratic Party establishment)."
Dandekar acknowledged that she would have to raise a significant amount of money for the race. To make her campaign viable, she said, she would have to raise at lease $6 million.
"Because it's a rural area, I am planning to go to the grass-root level as much as possible," she added. "This district covers 20 counties and so, I will have to really be dependent on the media."
Dandekar said she would be counting on unstinted support from the Indian-American community in Iowa.
When she ran for the state House and Iowa Senate, she said, "I had my close friends who were there for me, but this time the community will have to really step up to help me out in a big way."
Dandekar said, "The primary will be my toughest competition because it is a very Democratic district."
During her stint in the state Senate, she was the chair of the Senate Commerce Committee, vice chair of the Economic Development Budget Subcommittee, and was elected president of the National Foundation of Women Legislators in 2011.
During her years in public office she was a strong voice for job creation, working to bring advanced technology and skilled jobs to the state.
Dandekar, the first and only Indian American to win a seat in the Iowa legislature, immigrated to the US over 40 years ago.
She is an alumnus of NagpurUniversity, from where she received a bachelor's degree in biology and chemistry and BombayUniversity, from where she received a post-graduate diploma in dietetics.
She is a member of the National Association of Regulatory Utility Commissioners and serves on the NARUC Committee on Telecommunications and the Committee on International Relations.
She is also a member of the Mid-American Regulatory Conference and serves on the Advisory Council of the IowaEnergyCenter in Ames.
In addition, she serves on the advisory board of the National Science Foundation's Experimental Programme to Stimulate Competitive Research and is a member of the Federal-State Joint Conference on Advance Telecommunications Services and on the board of directors for the Smart Grid Interoperability Panel.
Dandekar and her husband, Arvind, live in Marion, Iowa, and have two sons, Ajai and Govind, and three grandchildren -- Evan, William and Ayaana.