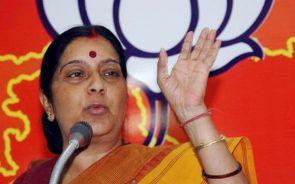 Criticising Prime Minister Manmohan Singh for his "half-empty" glass remark about the economy, Leader of Opposition in the Lok Sabha Sushma Swaraj said that it was not because of the NDA, but due to rampant corruption of the UPA government.
"During NDA rule, the economy was growing and the country had enough foreign reserves. However, due to rampant corruption by UPA ministers who had filled their pockets, the glass is bound to get half-empty," she said.
Swaraj arrived in the city to address a meeting on "election booth management" organised by the ruling BJP in Madhya Pradesh.
Alleging that during UPA rule after every three months a new scam took place and the amount involved also increased substantially, she cited examples of CWG, 2G spectrum and coal block allocation scams.
"The country has not seen such a corrupt government in its history," Swaraj remarked.
Referring to the LPG crisis, she reminded people how LPG cylinders were easily available to people during NDA rule without waiting.
The Leader of the Opposition also slammed the UPA government for its soft approach towards Pakistan and China which resulted in the killing of Sarabjeet Singh in Lahore, beheading of two jawans on the border and Chinese incursions in North East India.
About the recent Maoist attack in Chhattisgarh, Swaraj said that the Congress has raised a lot of hue and cry about it, but remained silent when Maoists killed CRPF jawans in Gadchiroli in Maharashtra, which is ruled by the Congress.
She also criticised the Centre for appointing an alleged Maoist sympathiser, Dr Binayak Sen, in the Planning Commission.
Referring to Madhya Pradesh where assembly polls are due later this year, Swaraj advised party workers to counter the Congress by raising issues of national as well as local importance.
She also asked them to sort out differences if any between them to ensure BJP government's victory not just in the assembly polls but also in the general elections.