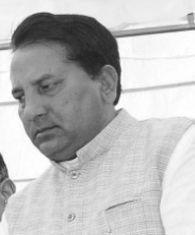 Former Rajasthan Minister Babulal Nagar, who has been suspended from Congress over rape charges, on Tuesday termed his suspension as "right decision" and in party's interest, while maintaining that he was innocent.
"Political rivals have framed me in the false charges of rape by hiring a woman who is habitual crime offender and registered a case through court. These rivals were raising fingers at Congress party which was hurting me," he alleged.
"I also do not want that my party gets bad name due to me. My suspension is right decision to save the party from rivals who were raising allegations. Suspension gives me more strength and confidence to serve the party," Nagar told PTI over the phone.
"I am Congress party's dedicated and honest worker whom the party gave ticket three times to run for assembly polls and made MLA from Dudu constituency. I know once the conspiracy by the woman is exposed, the party's gates will be opened for me," he anticipated.
Despite the suspension, Nagar said he would continue to work for the party. "Whether party gives me a ticket for the upcoming assembly polls later this year, or not I will work for the party from outside," he said.
On being asked whether he will contest the assembly polls as an independent candidate, Nagar said, "No, I am true and very ordinary Congressman who hails from poor scheduled caste family. It is Congress which has brought me up to this level."
Last night, Congress had suspended Nagar who has been accused of raping and assaulting a 35-year-old woman.
Nagar had resigned as the state minister for Dairy, Khadi and Rural Industries after the woman lodged an FIR against him alleging he raped and assaulted her at his official bungalow on September 11 after taking her there on the pretext of giving her a job.