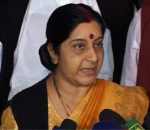 In the wake of the Delhi gangrape victim's death, Leader of Opposition in Lok Sabha Sushma Swaraj on Saturday reiterated her demand for death sentence to all those convicted in rape and murder cases.
"I repeat my demand for death sentence made on February 10, 2011," Swaraj said on microblogging site Twitter.
On February 10 last year, the BJP leader had tweeted, "I want death sentence in all cases of rape and murder and all cases of kidnapping/abduction & murder. (Read as 'please retweet') and support my call."
During a debate in Parliament on the gangrape of the 23-year-old paramedic student in the recently concluded winter session, Swaraj had demanded that all
the culprits in the case should be given death sentence.
She had appealed to Prime Minister Manmohan Singh to convene a special Parliament session to pass stringent laws to deal with crimes against women.
Later, the Bharatiya Janata Party leader had also asked Leader of the House in Lok Sabha Sushilkumar Shinde to call an all-party meeting to discuss the issue.
The gangrape victim passed away on Saturday in a Singapore hospital where she was being treated. "Her death has shaken the conscience of the nation. We must wake up and make India safe for daughters," Swaraj said in her condolence message.
Swaraj was also a part of a BJP delegation that met President Pranab Mukherjee to discuss the brutal incident after Shinde declared that no special session of Parliament or all-party meeting will be called.