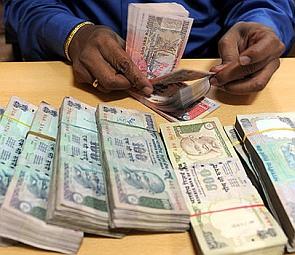 Suicide by a debt-burdened family in Thiruvananthapuram has spurred police to launch a state-wide crackdown on money lenders, many of them unlicensed, leading to the arrest of 75 persons and seizure of huge sums of unaccounted money since Sunday.
The raids, codenamed "Operation Kuberan", was ordered by Home Minister Ramesh Chennithala in the wake of public outrage at the suicide of five members of a family, allegedly after running into deep debt on account of high-interest loans obtained from a local money lending racket, known as "blade companies" in local parlance.
Based on the suicide note, four persons were arrested, one of them a woman.
According to police, 75 persons had been arrested and over Rs 50 lakh cash seized from across the state. In the state capital alone, 17 persons had been arrested as part of the operation.

A total of 125 cases have been registered under the Kerala Money Lenders Act, which has provisions to check usurious practices, but is seldom invoked against loan sharks who have flourished over the decades exploiting the consumerist culture of the state.
The home minister said police had been instructed to be stringent in the task without showing any mercy towards those engaged in illegal money lending and charging high rates of interest from helpless victims, often driving them to deep debt-traps.
Police sources said rackets indulging in usurious practices often carried out their business with the help of the underworld mafia and hired goons to coerce the victims by strong-arm tactics.
The scope of applying the Goondas Act in such cases would also be examined, they said.