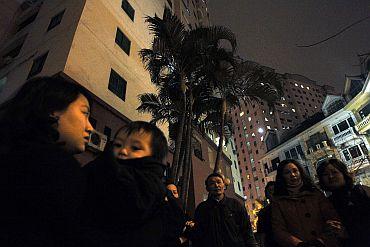 Two people were killed when a 6.8-magnitude earthquake struck northeastern Myanmar on Thursday night, shaking buildings as far away as Bangkok and Hanoi.
A powerful second quake with 5.4-magnitude hit about half an hour later, the United States Geological Survey said.

No tsunami was expected in the Indian Ocean because the epicentre was located too far inland, according to the Pacific Tsunami Warning Center. But both quakes were just 10 kilometres deep, which meant they can be very destructive.

The quake struck 90 kilometres north of Chiang Rai in Thailand and 235 kilometres north-north-east of Chiang Mai, Thailand's second city and a popular tourist destination.
A Myanmar official said a youngster died in a town close to the border with Thailand.


Another three people were reported to have been injured in a different part of the town, which was close to the epicentre of the quake.
Just across the border in Thailand, police in Mae Sai district said a 52-year-old woman was killed after a wall of her house collapsed, Xinhua news agency reported.
Thai reports said the northern Thai city sustained a little damage.
Image: Residents stand outside a building after an earthquake, in Hanoi on Thursday. Two large quakes struck near north Thailand's border with Myanmar and Laos, the US Geological Survey reported.
Photograph: Nguyen Huy Kham/Reuters