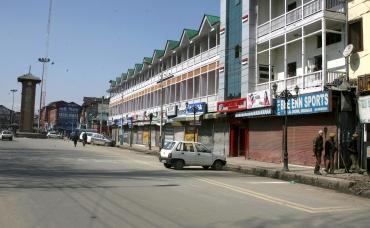 Kashmir valley witnessed yet another shutdown on Friday to demand the return of the remains of Parliament attack convict Afzal Guru, who was hanged in Tihar Jail in Delhi on February 9.

The shutdown was called by the newly formed Mutaihida Majlis-e-Mashawarat, a conglomerate of various separatist groups.

Shops and businesses remained shut while public transport stayed off the roads in Srinagar and other towns. The shutdown also affected attendance in government offices and banks.
Educational institutions in the valley are already closed for winter vacations.

Authorities have made strict security arrangements to maintain law and order in the valley. But they have not imposed any restrictions on pedestrian and vehicular movement in Srinagar and other towns.
Chief Minister Omar Abdullah and opposition Peoples Democratic Party chief Mufti Mohammad Sayeed have both urged Prime Minister Manmohan Singh to return the remains of Guru to his family members.

Abdul Rashid, an independent legislator in the Jammu and Kashmir assembly, plans to move a resolution to demand the return of Guru's body.

Guru was hanged in Delhi's high-security Tihar jail on February 9 and later buried within the jail premises. His hanging and burial inside the jail had triggered widespread protests and shutdowns in Kashmir valley.
Image: A deserted street in Srinagar | Photograph: Umar Ganie