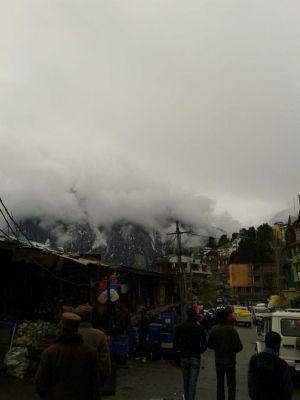 Over 200 people remained stranded in rain-ravaged Kinnaur district of Himachal Pradesh for the past ten days as rescue operations were on Wednesday hampered and Indian Air Force and state choppers could not take off due to bad weather.
Choppers were positioned at Rampur, Rekong Peo to make sorties to Pooh, Nako, Gaybang and other places but weather conditions were not conducive due to rain and fog, officials in Shimla said.
The IAF and state choppers have so far evacuated 1,395 people but about 200 people, including local residents, are still waiting at various places for the choppers.
"We will start sorties as soon as weather improve and try to evacuate maximum persons today," officials coordinating the chopper flights said.
The polling in Kinnaur assembly segment of Mandi parliamentary constituency, which was earlier slated for June 23, will be held Thusday at numerous places and over 52,000 voters would exercise their franchise.
Image: Rescue choppers stationed in Recong Peo and Rampur have not been able to make rescue sorties due to bad weather
Photograph: Rajorshi Sanyal/Rediff.com