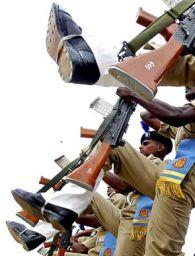 The premier officers training academy of paramilitary Sashastra Seema Bal in Srinagar in Garhwal has been damaged in heavy rains and floods in Uttarakhand with the preliminary estimate of loss put at around Rs 90 crore.
The main building area and campus of the academy have been extensively damaged after the Alaknanda river changed its course due to heavy rains and dumped six-feet silt on the facility.
"It is a big damage to our academy in Uttarakhand. Fortunately there have been no casualties and we have sent our officers and other staff to safe locations," SSB chief run Chaudhary told PTI today.
Chaudhary said the initial assessment of the damage to the academy is estimated at around Rs 90 crore.
The director general will visit the spot tomorrow to assess the damage even as he instructed his men to join relief and rescue operations in the state along with other security agencies.
All the training courses in the institution have been suspended.
The academy trains young SSB officers in the ranks of assistant commandant while it also runs refresher service courses for senior officers of paramilitary and police forces.
Major portions of the academy including dining rooms, living area and administrative quarters have been washed away or damaged by the rains, a senior SSB officer said.
The repair works would be initiated once the weather situation eases, the officer said.
The SSB guards Indian frontiers with Bhutan and Nepal.