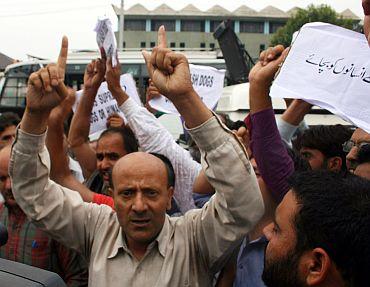 A novel protest by a sitting MLA against the dog menace was frustrated by the Jammu and Kashmir police in summer capital Srinagar on Wednesday.
Engineer Rashid, independent legislator from north Kashmir Langate assembly constituency, had threatened to collect the dogs and then let them loose into the courtyards of local ministers' official residences to attract attention towards the growing canine problems faced by the locals in the city and other towns.
The canines have been biting people, mostly children, triggering heavy panic among the people.
Engineer Rashid said that he had collected two truckloads of the dogs, but he and his supporters were prevented by police from transporting them to the target areas.
"Two truckloads of stray dogs being brought to Srinagar were seized by the police today. I intended to release these into the courtyards of ministers' official residences to awaken them to the alarming danger the stray dogs pose to the society," Engineer told rediff.com.
"I now plan to release a few of these into the lawns of the civil secretariat in Srinagar so that the administration is jolted out of its slumber, but this has also not been allowed", Engineer Rashid said.
He said, "As I approached the civil secretariat in my car carrying a few stray dogs, policemen seized the vehicle and drove it away from the seat of governance in the city which houses the offices of the state chief minister, senior ministers and bureaucrats here."
Official estimates say around 1,00,000 dogs exist in Srinagar city which has a human population of 1.3 million.
NGO's and local civil society members have been raising voice against the government's inability to tackle the dog menace.
As animal activists rally in support of stray dogs preventing their physical elimination by the municipal authorities, dog sterilisation is the only preventive measure being taken to control the canine population.
Image: MLA Rashid Engineer and his supporters protest against the dog menace in Srinagar on Wednesday
Photograph: Umar Ganie