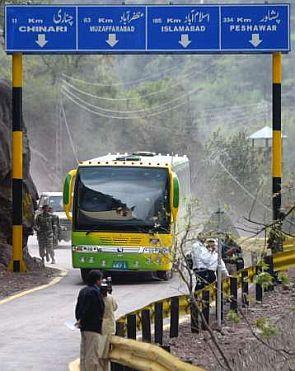 The suspended Srinagar-Muzaffarabad bus service, following a narcotic haul from a PoK truck early this month is set to resume on Monday.
"Yes, the Srinagar-Muzaffarabad bus service will resume on Monday," said G A Khawaja, deputy commissioner Baramulla, who led the team of state officials from this side.
The officials of the two sides met at the LoC near the border town of Uri on Thursday afternoon.
Khawaja said the talks were held in a cordial atmosphere and hoped the issues related to cross LoC trade will be discussed in the next meeting.
"I hope the trade will also resume soon," he added.
The cross LoC trade was suspended after a huge narcotic haul from a POK truck early this month leading to the arrest of the driver of the truck.
Pakistan authorities have been demanding the release of the driver and have detained 27 truck drivers along with their fleet of trucks which had crossed over to Muzaffarbad on January 17.
The truck fleet and 48 drivers from Muzaffarabad are also held up at the trade facilitation centre at Salamabad near Uri.
While the bus service started in April, 2005, the trade between the two sides started in October 2008.