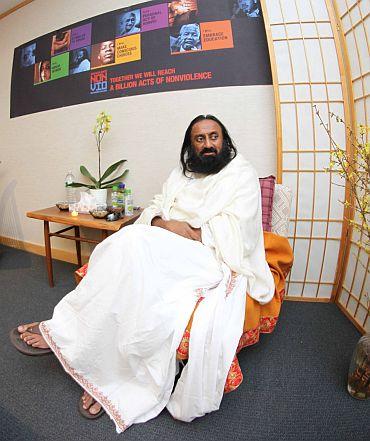 Art of Living founder Sri Sri Ravi Shankar on March 30 joined hundreds of peace activists in New York to raise their voice in favour of non-violence.
Shankar is leading Nonviolence: No Higher Calling or NONVIO, which is committed to counteracting the 10 million acts of violence perpetrated in the US every year.
His pledged mission is to unite the world into a violence-free, stress-free society by re-instilling human values.
In a brief meeting with the media prior to the peace rally, Shankar answered questions about his crusade for global nonviolence, including combating gangs and violence among youth.
"In every one of these young people, there is a victim who is crying for help inside," he said. "We need to reach out to them, teach them they can control their negative emotions and transform them into more positive ones."
The spiritual leader said he challenges young people to make a new friend every day, and reiterated education and connectivity through communities as a way to attain a violence- and stress-free society.
Shankar has played a key role in conflict resolution by spreading his vision of non-violence at public forums and gatherings worldwide. A neutral figure with peace as his sole agenda, he has received credit for bringing opposing parties to the negotiating table in Iraq, Ivory Coast, Kosovo, Kashmir and Sri Lanka.
The March 30 event held at Dag Hammarskjold Plaza, 47th Street and 2nd Avenue in New York featured musical performances by Grammy Nominee Chandrika Tandon, chant-rock-dance fusion with Butterthief, local artists and high school bands, elected officials and activists and high school children sharing their commitment to non-violence.

Image: Sri Sri Ravi Shankar leads the NONVIO gathering in New York
Photograph: Paresh Gandhi/Rediff.com