Manmohan Singh is a very humble person.
When he was governor of the Reserve Bank of India, I was in charge of credit policy formulation.
Dr Singh was my boss. I dealt with him directly and travelled with him across the country.
He is a very simple man, a democrat and has a very open, academic mind.
As a boss, he never imposed his views on us.
He used to give outstanding lectures on issues he wanted to act upon.
He is not arrogant and receptive to other people's ideas.
At our internal meetings, he used to say these are my views and I am subject to correction by all of you.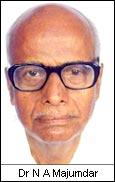 Often officials, including me, used to question him if we did not agree with his point of view and put forth counter arguments. He was always open for discussion and willing to amend his view if someone offered a convincing argument.
After he left the RBI, joined politics and became Union finance minister, I met him in Delhi on behalf of the Society for Development Studies, for whom I was working on its satellite banking project.
I submitted a report on satellite banking and discussed some proposals the SDS had in mind. Satellite banking is a rural areas-related subject and Dr Singh is always concerned about rural development.
He is like any ordinary person and is very much concerned about the problems the average Indian faces in his day-to-day life.
He always has the poor in mind while formulating economic policies.
His style of functioning is always influenced by the poor and the average person can always benefits from his economic reforms.
He has always used the 'reform should have a human face' phrases in all his previous Budget speeches, which means that, he will not blindly go for economical reforms with the stockmarkets in mind but will take care of the interests of farmers and small enterprises.
Today we have several problems in our country. For example, we have surplus food grain but no means to make it available to the needy.
On the contrary, we have exported 10 million tonnes of food grain in 2003-2004, which is a very ugly part of the so-called economic reform programme.
Needy Indians should be given priority and given food grain at a subsidised rate.
Another problem is unemployment in rural areas.
Dr Singh is very soft-spoken but an outstanding personality. He can win the people's confidence. Whoever comes in contact with him becomes an admirer. He is quite capable of dealing with international relations.
As prime minister, I expect Dr Singh will work for those sections of society whose problems the previous government failed to address. I expect him to focus on agriculture, poverty and the average man.
Dr N A Majumdar, former principal adviser, Reserve Bank of India, was Nuffield Fellow at Oxford in 1959. He joined the RBI on his return to India. He has worked with the International Monetary Fund and served as a consultant to the World Bank. He has published eight books and a number of research papers. Dr Majumdar spoke to Vijay Singh in Mumbai.
Photograph: ROB ELLIOTT and RAVEENDRAN/AFP/Getty Images
Image: Uday Kuckian