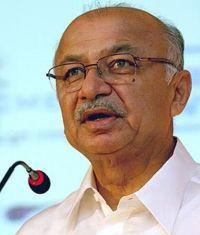 "Please speak within the confines of law". This was the advice given by Union Home Minister Sushilkumar Shinde to politicians on Monday after some statements kicked up a controversy.
Shinde was replying to a pointed question about his view on Narendra Modi's allegation that Congress was using the Central Bureau of Investigation and patronising the Indian Mujahideen to counter BJP and Rahul Gandhi's claim that Pakistan's ISI was approaching victims of Muzaffarnagar riots.
"See, one has to make such statements carefully. One should not say those things which do not come under the ambit of law," he told reporters in New Delhi without taking any names.
The home mnister refused to say anything on Rahul's statement, despite repeated questions, saying the chapter is closed.
"I have nothing to say on this. I have said on a number of occasions that I have nothing to say on this. The chapter is closed," he said on the statement of Congress vice president.
Shinde, however, said the BJP prime ministerial candidate was speaking out of context and the allegations levelled by him were not good.
"Narendra Modi is talking in air...out of context. CBI is an independent body. It was with them (BJP) also when they were in power. Such allegations are not good.
"How did the allegation occur to Modi that we are dictating (IM) is not known to us" he said.