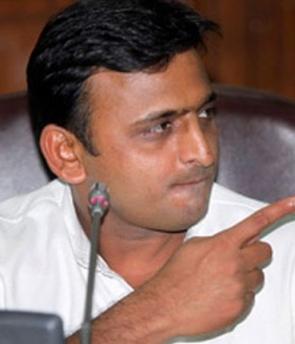 In an embarrassment to the Samajwadi Party government in Uttar Pradesh, a ruling party Member of Legislative Assembly alleged that corruption during Akhilesh Yadav's regime has surpassed the record set during Mayawati's tenure.
Attacking the government for the second time this week, Mohammad Rizvi, the MLA from Sikandarpur in Ballia district, said, "Officers posted at fifth floor (of CM's secretariat) are not listening to MLAs' grievances and are misleading the chief minister".
"Akhilesh has failed to keep a check on them and they are even not paying heed to his directions," Rizvi told reporters.
Rizvi said corruption was rampant in the present government. "It has broken all records, even that of corruption during Mayawati's regime," he said.
He alleged that the chief minister lacked "will power and sternness" to run his government, saying this can botch political prospects of party supremo Mulayam Singh Yadav in becoming the prime minister.
The MLA also advised two ministers -- Ambika Chowdhury and Ram Govind Chowdhury -- from the district to hold a review meeting with party leaders to get to know the ground reality.
"If workers are not heard, how will they work for the party," he asked.
Revenue Minister Ambika Chowdhury, when asked about the MLA's charge, said he had always heard whatever matter Rizvi had brought to his notice and added that charges of rise in corruption in the present regime were "baseless".
Earlier this week, the MLA had claimed that corruption was rampant in Ballia district and Bahujan Samaj Party workers were getting their work done by paying bribe to the government officials.