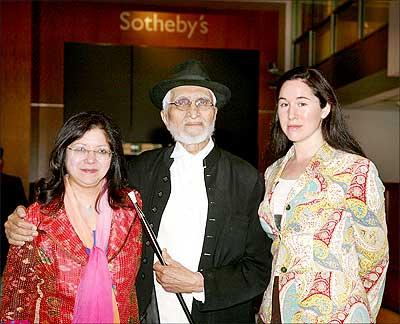 A range of modern and contemporary Indian art went under the hammer at Sotheby's in New York on July 17 on behalf of the Kolkata Museum of Modern Art and raised $15,10,560 for the museum.
Work by painters and sculptors like Tyeb Mehta, Jehangir Sabavala, Somnath Hore, Sakti Burman, Ram Kumar, F N Souza, Akbar Padamsee, Jogen Chowdhury, Ganesh Pyne, Arpita Singh, Subodh Gupta, Rameshwar Broota, Paresh Maity, Chintan Upadhyay, Babu Xavier, Baiju Parthan and Dayanita Singh were among the items auctioned. Some of the most expensive pieces at the show were Kali Head, a green-and-white modern interpretation of the Goddess Kali by Tyeb Mehta; a bronze sculpture titled Wounds by Somnath Hore (sold for $40,800): The Chhortens, a nostalgic oil and acrylic study of Tibetan/ Ladakhi-style stupas against a stark snowy landscape by Jehangir Sabavala (sold for $180,000) and an untitled work depicting hazy borders between man and a machine by Rameshwar Broota (sold for $300,000). 
'To become an artist requires dedication'
Pictured at the auction (above; left to right) are Rakhi Sarkar, managing trustee of Kolkata Museum of Modern Art (KMOMA), artist M F Husain and Zara Porter Hill, head of the Indian and Southeast Asian Art department at Sotheby's.
Photograph: Jay Mandal