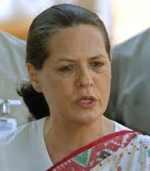 Resolution of the vexed Telangana issue could take more time with the Congress not firming up any decision on it as yet despite party President Sonia Gandhi holding another round of consultations with senior leaders on Thursday.
"Consultations are still on and will continue," party spokesperson Renuka Chowdhary said when asked whether the party has taken any decision on the issue as the deadline set by the Centre to decide the matter was inching closer.
"No decision yet" was the refrain of a top leader after Gandhi held deliberations over the issue with Home Minister Sushilkumar Shinde, All India Congress Committee general secretaries Digvijay Singh and Ghulam Nabi Azad and Union Minister Vaylar Ravi.
An indication that a decision on Telangana may be delayed was given by Azad, the AICC in-charge for Andhra Pradesh, on Wednesday itself after a fresh round of consultations Sonia Gandhi had with these leaders on the contentious issue.
"I don't think one month (deadline should be taken so literally).... When one says tomorrow, it does not mean tomorrow morning. When one says one week, sometimes it is two weeks," Azad had said when told that the Centre's one-month deadline on Telangana issue is fast approaching.
Declining to set any deadline, he had said what was important was that the Congress high command was making serious efforts to resolve the issue as early as possible.
Azad's statement had come amid hectic consultations at the highest levels in government and speculation over various options to resolve the tangle.
Among the various ideas, one is said to be the creation of a territorial administration on the lines of Bodoland and Gorkhaland for the backward region.
Two separate delegations from Telangana and outside Telangana regions met several central leaders, including Prime Minister Manmohan Singh, yesterday articulating their views on the sensitive issue but got no assurance from anyone.
The home minister had said on December 28 that the Centre would take the decision on the issue within a month.
Reacting angrily to Azad's recent statement. Telangana Rashtra Samiti president K Chandrasekhar Rao yesterday called upon Congress leaders from Telangana to come out of the Congress' "poisonous embrace" and join hands with the TRS to carry the statehood struggle forward.
A delegation of five ministers and 18 MLAs from Telangana region met Shinde separately yesterday and told him that nothing short of a separate state would be acceptable.