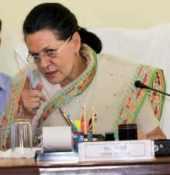 Echoing the national anger over the issue of marines, Congress President Sonia Gandhi on Tuesday accused Italy of "betrayal" and asserted that no country will be allowed to take India for granted.
She slammed Italy for violating its assurance to the Supreme Court to send back the two marines facing trial for allegedly killing two Indian fishermen and said that all means must be pursued to ensure that the commitment is fulfilled.
Addressing a meeting of the Congress parliamentary party, she said, "The defiance of the Italian government on the question of the two marines and its betrayal of a commitment to our Supreme Court are outright unacceptable. No country can, should, or will be allowed to take India for granted. All means must be pursued to ensure that the commitment made by the Italian government to our Supreme Court is honoured."
Her remarks assume significance as the Congress is under attack from the Opposition, which alluding to Gandhi's Italian origin, has been targeting it questioning why accused having links with Italy escape Indian laws starting from the time of the Bofors scandal.
Sources in the party have maintained that Gandhi was keen that the government did not appear soft on the Italian marines issue.
After withholding posting of its ambassador-designate Basant Kumar Gupta to Rome, the government had on Monday said further steps will be taken after completion of the review of bilateral ties with Italy.
Taking a tough stand, Prime Minister Manmohan Singh had accused Italy of violating "every rule of diplomatic discourse" and asked it to send back the two marines undergoing trial for killing Indian fishermen, failing which there will be consequences on bilateral ties.
Massimiliano Lattore and Salvatore Girone, both charged with homicide for killing two fishermen off the Kerala coast in February last year in an anti-piracy operation, were permitted by the apex court on February 22 to go to Italy for four weeks for voting in election.