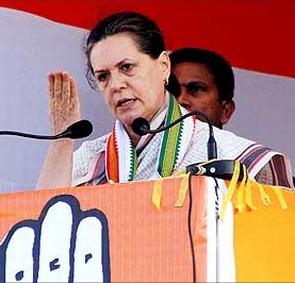 United Progressive Alliance Chairperson Sonia Gandhi on Saturday launched a verbal attack on the Bharatiya Janata Party while addressing multiple rallies in election-bound Rajasthan.
The Congress president, who addressed poll rallies at Kota and Durgarpur, outlined the developmental efforts undertaken in Rajasthan during her party's rule.
She began her speech in Kota by saying, "There was a time when Rajasthan was almost nowhere on the industrial map of the country but today it is one of the major states in India as far as investment is concerned."
She continued, "Rajasthan is no more a backward state. It is now among progressive states. Our party has made the maximum contribution in the progress of Rajasthan."
The UPA chairperson highlighted the progress of Kota in the field of education.
"From the point of view of education, Kota is an important city. Because of the policy of the Centre, Rajasthan is becoming an education hub and Kota is a major part of it. Setting up an AIIMS and an IIT in Jodhpur, an IIM in Udaipur, an IIIT in Kota and a central university in Ajmer are the achievements of our government."
The Congress president also talked about the social welfare programmes of the Ashok Gehlot-led state government and lauded the health care schemes launched by the government.
She then attacked BJP leader Vasundhara Raje -- who had termed the free medicines provided by the state government as "poisonous" -- saying,
"The medicines are not poisonous. They (BJP leaders) are venomous. They have no empathy for commoners in their heart. They don't have any worry for you; they are just hungry for power".
"If they worry for you, why did they not implement such historic revolutionary schemes when they were in power," Gandhi sought to know.
The Rajasthan government has claimed that nearly 13 crore people have benefited from the chief minister's free medicine scheme that was launched in September 2011.
Everyday, says the state government, 2.5 lakh patients avail of the scheme.
Significantly, the Congress on Saturday issued an advertisement to condemn Raje's allegation and alleged that she is trying to instill fear among the people.
A few hours after Gandhi bashed the BJP, Raje, while addressing a poll rally, stood by her allegations.
"I said the medicines were poisonous as they had fungus. The medicines have been found to be sub-standard during tests and they are still being distributed under the free medicine scheme," said the BJP's chief ministerial candidate in the state.