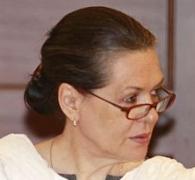 Congress President Sonia Gandhi, who has been under attack from Leader of Opposition in Lok Sabha Sushma Swaraj, on Tuesday reached out to the Bharatiya Janata Party leader in Parliament and walked with one hand on her shoulder, ostensibly to win support for the passage of crucial bills in the House.
Soon after Lok Sabha was adjourned, Swaraj was walking towards Central Hall with BJP Parliamentary Party chief L K Advani and other Members of Parliament when Gandhi approached her and put her arm on the Leader of the Opposition's shoulder.
Gandhi walked with Swaraj for some distance.
The MPs, who were witness to this new camaraderie between Gandhi and Swaraj, said the two leaders talked animatedly with each other. BJP leaders were, however, tight-lipped about the subject of the conversation.
Gandhi's gesture appears as a bid for a rapprochement with the main Opposition as the ruling party wants the Food Security Bill and the Land Acquisition Bill passed in Parliament before the budget session ends on May 10.
BJP supports these bills in principle and would give its nod if certain amendments are incorporated.
The Congress president's move came as a surprise to many as on last Friday, Swaraj had accused Gandhi of instigating her MPs to disrupt her speech in Lok Sabha.
Swaraj had said it had been agreed that she will enumerate reasons for BJP's boycott of Parliament, following which the BJP will stage a walkout to facilitate the passage of the Finance Bill.
However, interruptions by Union ministers had made Swaraj angry and she blamed Gandhi for it.
"I was disrupted 60 times in three minutes," Swaraj had said.
Gandhi is known for reaching out to other parties. Earlier in this session, she had surprised her own party colleagues when she walked up to Samajwadi Party chief Mulayam Singh Yadav in Lok Sabha and asked him with folded hands to give up his demand for Steel Minister Beni Prasad Verma's resignation.
Verma had accused Yadav of siding with communal forces and taking money to support the government from outside.