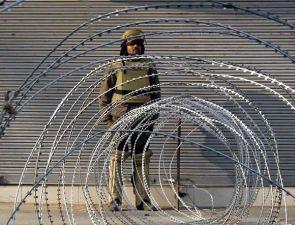 A prominent social activist was on Wednesday shot dead by militants in Sopore township of north Kashmir's Baramulla district, police said.
A senior police officer said militants fired at Kifayat Hussain, 45, from a close range in Shankergund locality of Sopore town. Kifayat succumbed to injuries while being shifted to hospital, he added.
The officer also said that Kifayat had fought 2008 assembly polls unsuccessfully as an independent candidate and had been provided police protection by the local administration.
"He was talking on his mobile phone near his house in Shankargund when militants fired at him. His two police guards were inside his house when the militants struck," the officer added.
Hussain, who was famous in the area for working for welfare of the people, had been on the hit-list of militants and was provided two Personal Security Officers by the local police, police said.
The incident follows the deadly militant ambush in summer capital Srinagar on Monday in which eight army troopers were killed and eleven others wounded.
The prime minister, Dr Manmohan Singh in the meantime left for Banihal town in Jammu region where he will commission the rail tunnel billed asIndia's longest that will connect the valley with Jammu region.
Security in the entire capital city continues to be high alert in view of the prime minister's visit. All vehicles entering the capital city are being searched and pedestrians frisked.