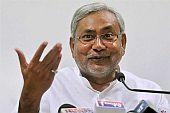 Bihar Chief Minister Nitish Kumar on Thursday brushed aside criticism by political adversaries of his campaign on the special category status demand for the state and said he will carry on his endeavour to get the incentive in the larger interest of the state and its people.

"As the special status campaign gathers momentum with the people getting involved with the issue, some people have become jealous and started finding faults with me and my government," he said at a function.

Kumar said he was, however, unfazed by the volley of criticism to his campaign and will go to rally the people of Bihar behind the special status demand to ensure the larger aspirations of the people and the state get fulfilled at some stage.

"It is a usual habit of the small people to run down the powerful ones," the Chief Minister said referring to the protests against him during the 'Adhikar yatra' and said those people whose mass base has narrowed down in Bihar were bound to indulge in disruptive activities.

Kumar said he did not care for his adversaries making insulting comments against him and said different people have different yardsticks to measure respect and disrespect.

On the allegation that his special status campaign was aimed at mobilizing support for 2014 parliamentary polls, he said elections were far away and the electoral benefits had never hit his mind when he decided to launch a campaign on the issue by taking all together six years ago.

He said his demand for grant of special status for Bihar has been consistent right since his government had a unanimous resolution adopted by the two houses of the state legislature six years ago and the campaign on the issue has since then moved in a forward direction.