Divya-Ilavarasan's tragic love story
July 11, 2013 16:40 IST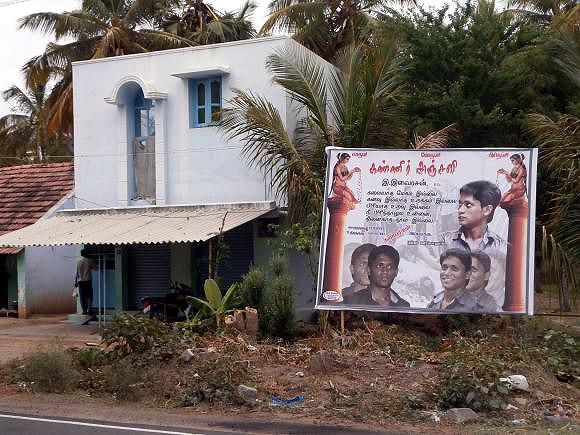 Tamil youth Ilavarasan's tragic death was the result of the most flammable mixture in India -- caste and politics. In his case even love couldn't trump this cocktail. A Ganesh Nadar reports from Dharmapuri.
The two most important men in a girl's life are often her father and her husband. This is the heart-wrenching story of Divya whose father committed suicide in November last year, and her husband is said to have committed suicide in July this year.
July 9, 2013: The Dharmapuri Medical College Hospital in Tamil Nadu is crowded with friends and family of Divya's husband, 22-year-old Ilavarasan, who have been waiting for six days to hear whether the Madras high court will agree to a second post-mortem of his body. The court was watching a video of the first post-mortem to decide whether a second one was necessary.
The next day, July 10, the high court directed that two doctors will examine the body and report to the court on whether another post-mortem was necessary.
The first post-mortem had been videographed and the court commented adversely on the manner in which the post-mortem was conducted. None of the organs was weighed as per normal procedure. Only doctors, nurses and attendants are supposed to be in the operating room, but the court observed that friends, family, relatives and the police were freely entering the post-mortem operation room.
One policeman was even observed shooting a video of the procedure on his mobile phone.
Click NEXT to read further...
How caste politics came to haunt Ilavarasan and Divya
July 11, 2013 16:40 IST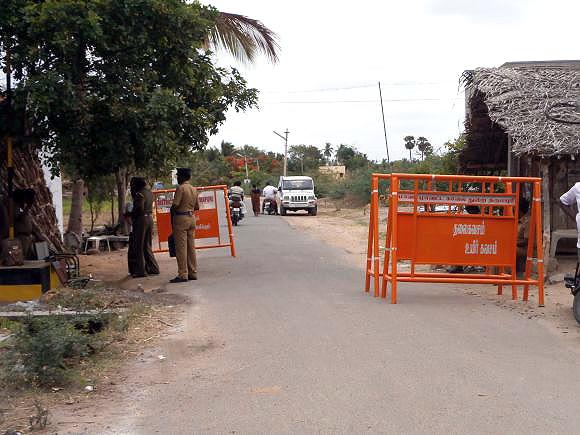 Ilavarsan died on July 4. His body was found on a culvert adjoining the railway track in Dharmapuri with severe and fatal injuries that the police say were due to his being hit by a train as a result of a suicide bid. His relatives, however, insist that he was murdered. The first post-mortem concluded that he had committed suicide. The family then moved the high court seeking another post-mortem.
Ilavarasan's tragic end was the result of the most flammable mixture in India -- caste and politics. Ilavarasan and Divya studied in Dharmapuri town and lived in neighbouring villages -- he is from Natham and she from Sellankottai.
They travelled on the same bus and that's how they first met. Later, he joined a science college and she joined a nursing college. They fell in love over time and planned to get married once they graduated and got jobs.
They were in their final year in college when Divya's mother started looking for a boy for her to marry. The curse of modern day India -- the caste divide -- meant that her parents who were of the Vanniyar caste, would never agree to Divya's marriage to Ilavarasan, who was from the Dalit community.
It was not just their families the two young people would have to battle. Caste politics came to haunt them as well.
For more than 10 years two caste outfits, the pro-middle caste PMK (Pattali Makkal Katchi) and the pro-Dalit VCK (Viduthalai Chiruthaigal Katchi) had been in alliance either with the DMK or with the AIADMK, the two major parties in Tamil Nadu. Peace had thus prevailed between the Vanniyars and the Dalits as Ramdoss of the PMK and Thirumavalavan of the VCK were friends.
In the last elections they fell out. While Thirumavalavan managed to become a Lok Sabha MP, the PMK was wiped out completely. Their friendship broke. Six months ago, Ramdoss started a vicious campaign against inter-caste marriages.
In one of his speeches he said that Dalit boys are dressing up smartly and ensnaring higher caste girls by false promises of love. Once married, they demand huge sums to divorce the girl. The PMK was ably supported by the Kongu Naadu Gounder Peravai which took out advertisements in major dailies against inter-caste marriages.
In the surcharged atmosphere of the sustained hate campaign by the PMK and KNGP, Divya and Ilavarasan knew that they had no chance of a marriage to which both parents would agree.
Click NEXT to read further...
Divya's father hangs himself; Vanniyars go on a deadly rampage
July 11, 2013 16:40 IST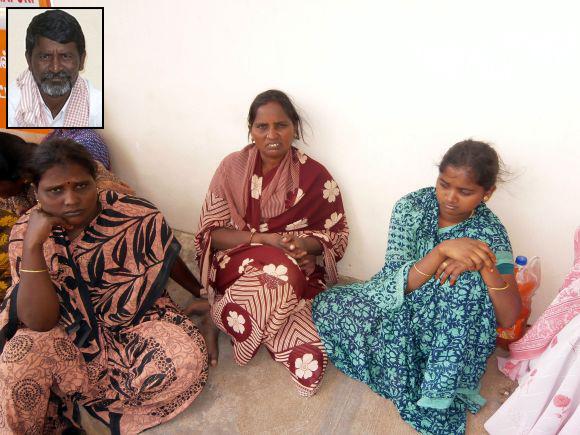 On October 14, 2012, they got married and Ilavarasan took her to his home. His father Elangovan who works as a records clerk in the Government Hospital in Dharmapuri supported his son, knowing that the couple faced certain violence from the girl's family.
They approached the police who provided them security.
"The superintendant of police Asra Garg is a good man. When I sent the young couple to Chennai, he sent an armed gunman to accompany them," said Elangovan. Still, so great was the fear that the young couple would be harmed by vicious caste politics, that Elangovan says he never allowed them out of the house.
Back in Divya's natal village of Sellankottai the Vanniyars had a meeting, constituted a kangaroo court, and ordered Divya to come home. Divya refused.
On November 7, 2012, Divya's father Nagarajan hanged himself. Elangovan did not allow Divya to attend his funeral as he feared she would be held responsible and attacked.
Nagarajan' death was excuse enough for the Vanniyars to go on a deadly rampage that very day.
They planned it very well. One group blocked the highway by cutting trees and laying them across the road.
This tactic was perfected by Ramdoss when he first started the PMK in the '80s. He was in fact then known as maraveti Ramdoss, or tree-cutter Ramdoss.
Another group entered Ilavarasan's village of Natham and burnt down every single house. Their thirst for revenge was not quenched so they entered the nearby villages of Annanagar and Kondampatti and burnt them down too. Altogether 268 houses were burnt down. The terrified Dalits fled.
Three hundred policemen stood and watched the mob of 2,500 pillage and burn. The tree blockade on the highway ensured that reinforcements could not reach in time.
The next day 90 people were arrested. They have all been released. Their lawyer said that they were standing on the road and doing nothing.
Click NEXT to read further...
Divya tell the court she wants to stay with her mother
July 11, 2013 16:40 IST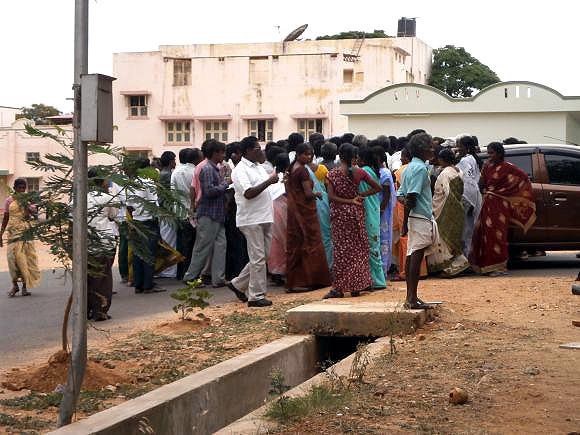 Divya and Ilavarasan escaped because they were living in a rented house in Dharmapuri town 10 km away. Divya now had 268 burnt houses and a dead father weighing on her conscience.
Still, the couple managed to live together for almost nine months.
Ilavarasan had applied for the job of head constable and was sent for physical tests. His appointment order was held in abeyance when the case erupted.
Divya's mother met her once in May 2013. Elangovan told us, "After that they spoke every day on the phone, and that woman poisoned her mind."
Divya's mother even moved the high court to get her daughter to come back. At the first hearing, Divya fell at her mother's feet, apologised, and asked for forgiveness, but her mother did not relent. Divya went home with Ilavarasan.
At the second hearing, Divya told the court she would stay with her mother. She repeated this at the third hearing. A disappointed Ilavarasan went back to Dharmapuri alone.
And the next day he was dead.
Click NEXT to read further...
Enquiry by the Railways trashes suicide theory
July 11, 2013 16:40 IST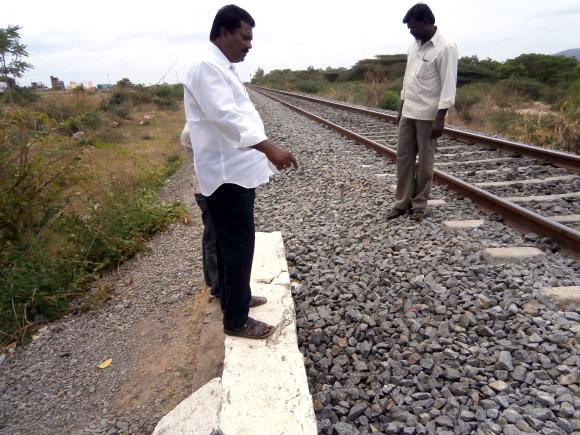 On July 8, the police claimed he had written a suicide letter, which had been removed by a relative but had been given to the police later. The letter said no one should be blamed for his death.
Elangovan's brother-in-law Joseph dismissed this explanation. "The relative they are mentioning doesn't even talk to us. He is our enemy. Why would he come anywhere near the body or even touch it?"
An examination of the culvert where Ilavarasan's body was found shows that he had to be sitting with his back to the track when he was hit. The culvert is three feet from the track. There was dried blood on the rubble near the culvert. It seemed far-fetched that a huge train hit a young man and he fell merely three feet away.
The railways conducted their own enquiry and categorically denied that any accident had occurred on the tracks on July 4. The suicide theory thus went for a toss.
The case has been transferred to the state Crime Branch of the CID. Elangovan says, "If they had allowed the local police to investigate, SP Asra Garg would have caught the culprits in 48 hours." Now they have petitioned the high court for a CBI inquiry.
It was impossible to meet Divya. I was not even allowed into her village. The superintendent of police, Salem, was guarding the village entrance. The police told me that as section 144 of the IPC (which prohibits assembly of four or more persons) was promulgated in the area, I was not allowed in.
Trying to tell them that I was alone and so the said section did not apply, fell on deaf ears. I was asked to contact the district collector for permission.
So, no one knows how Divya is, how she has taken the two deaths of the most important men in her life. She will get no help, support or understanding from her family or community. And the odds are against the State providing either protection or justice, when it could provide neither for her husband.
Neither governments nor courts have been able to end the curse of caste discrimination so firmly embedded in the psyche of people even from a comparatively educated state such as Tamil Nadu.
Krishnaveni says, "My son's soul will rest in peace only if Divya comes for the funeral."
But she doesn't say what needs to be done for Divya to live in peace.
TOP photo features of the week
July 11, 2013 16:40 IST
Click on MORE to see another set of PHOTO features...