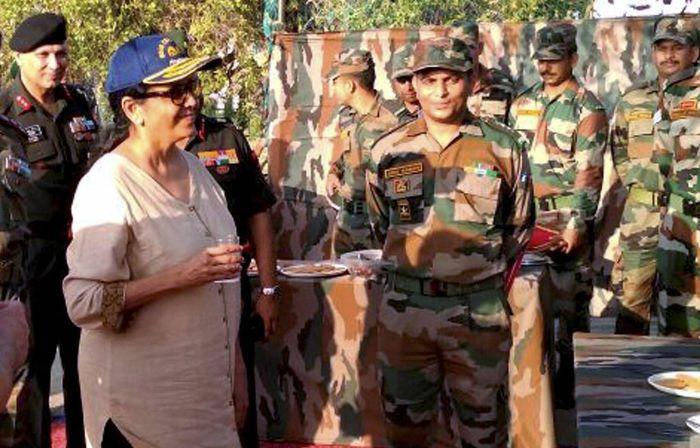 IMAGE: Defence Minister Nirmala Sitharaman with officers and troops during her visit at Naliya Airforce station in Gujarat on Monday. Photograph: PTI Photo

Defence Minister Nirmala Sitharaman will hold meetings with the three service chiefs every morning to ensure quick decision making in areas of strategic importance.
It had also been decided that the Defence Acquisition Council, the highest decision making body on defence procurements, would meet on a fortnightly basis to ensure a time-bound clearance of proposals on military acquisition, the defence ministry said.
Sitharaman would also have a separate meeting with the defence secretary every day, it added.
'A whole range of meetings has been scheduled with the three defence service chiefs to review defence preparedness and allied issues of strategic interests.
'Daily morning meetings with the three service chiefs and a separate daily meeting with the defence secretary have been formatted as a new practice for quick decision making,' the ministry said in a statement.
'Didn't comment on CAG report on ammunition shortage'
Defence Minister Nirmala Sitharaman on Monday said the purchase of ammunition and other assets for the armed forces is a continuous process and asserted that 'gaps', if any, will be filled expeditiously.
She said that she had 'not spoken anything about (a) CAG (Comptroller and Auditor General) report' which had stated that the armed forces have ammunition that could last only for 20 days in the event of a war.
"A question was asked to me yesterday (Sunday) in Barmer as to whether the Indian Army faces shortage of ammunition. I told reporters that in the Army, purchasing ammunition is a continuous process, sometimes some type of ammunition is purchased, sometimes other, as per the requirement," Sitharaman told the mediapersons in Gandhinagar.
"The next question was asked that CAG is saying there is shortage of ammunition, but others were also asking. Today, I was astonished to see some reports which said that Nirmala Sitharaman says that CAG report is wrong. I have not spoken anything about CAG report," the minister said.
She also took to the twitter to clarify on the issue.
'The question asked to me had no reference to the CAG. My reply was procurement is a continuing process, gaps will be filled.
'In none of my answers did I mention CAG. Putting 2 & 2 together, a quote has been created, which (is) strictly not mine,' Sitharaman tweeted.
During the media interaction in Barmer on Sunday, she had said that any debate on shortage of ammunition with the armed forces was "unnecessary".
On her first trip to a border area after becoming the defence minister last week, Sitharaman had said the government will ensure availability of whatever is required by the armed forces for their "complete preparedness".
In case of 'any deficiencies', she had said the should would urgently discuss those issues with Prime Minister Narendra Modi and National Security Adviser Ajit Doval so that those matters are addressed.
Sitharaman, during meetings with senior officials of the ministry today, gave clear directions on critical issues while emphasising the need to step up the pace of acquisition proposals.
Other areas of focus would be settling all outstanding land-related issues for infrastructure projects and matters relating to the welfare of defence personnel and their families, the ministry said.
Sitharaman has been holding a series of meetings with top officials of the various wings of the defence ministry since taking charge as defence minister on September 7.
She has listed military preparedness, defence indigenisation, resolving long-pending issues and welfare of soldiers as the priority areas.