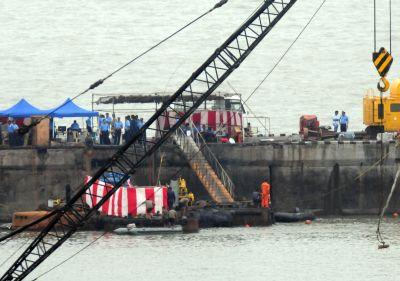 The autopsy conducted on five navy men, whose bodies were extricated from submarine INS Sindhurakshak, has found that they died due to severe burns and drowning, even as divers on Saturday continued search operations for other personnel who were on board.
Doctors at the state-run J J Hospital in Mumbai have completed post-mortem on the bodies, sources said.
"DNA samples and dental marks have been taken (to ascertain their identity)," an official said, adding all these will be sent for forensic analysis.
In one of the worst disasters to have struck the Indian Navy, a series of explosions rocked the Russian-made Kilo class submarine at the dockyard in Mumbai on the midnight of August 13, sinking it partially in the shallow sea.
Only five bodies of the 18 navy personnel on board the ill-fated submarine, including three officers, have been pulled out.
The bodies of the Navy men were charred beyond recognition, but tissues were found to be intact, sources said, adding other details will be known only after receiving the forensic report.
X-rays of the bones indicated that no shrapnels were found, they added.
On Friday, a case of accidental death under section 174 of the Criminal Procedure Code was registered on a complaint filed by Gopal Singh Rajput, a doctor in the frontline submarine.
Battling the odds, divers from the Navy continued their search for more bodies on board submarine INS Sindhurakshak without any success but managed to open a second access to the sunken vessel during an overnight "challenging but critical" operation.
The rescue team had extricated badly charred bodies of five of the 18 personnel trapped in the craft yesterday after gruelling efforts as naval authorities voiced worst fears that others on board might have been incinerated too.
"The divers have gained a second access to the submarine late last night when they successfully prised open the rear escape hatch which was submerged below and jammed due to high temperature," a release from the Navy said, terming the operation as "challenging but critical."
Also, opening of the jammed forward escape hatch is being attempted for an entry to the front portion of the submarine, it said.
Sources said the Navy divers are carrying out the task of searching within the submarine by "feeling each inch" due to zero visibility within flooded compartments to locate the missing bodies and mark a probable route to be used for further rescue operations.
Image: INS Sindhurakshak rescue operations on in Mumbai
Photograph: Sahil Salve