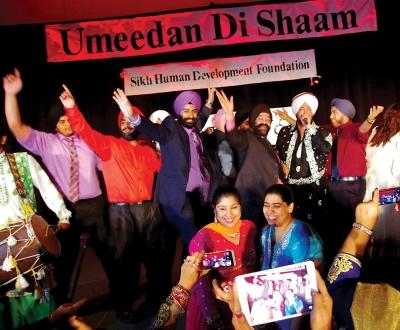 Hundreds of members of the Sikh community last month garnered over $330,000 for Punjab's poor, but bright students during a fundraising event hosted by the Washington, DC-based Sikh Human Development Foundation. Aziz Haniffa reports.
Over the past decade, the gala has emerged as the premier event in the capital area to raise funds for financially strapped students pursuing higher education in Punjab. This year's gala -- held at the Bethesda North Marriott Hotel and Conference Centre-- drew guests from as far as Delaware, New Jersey, Pennsylvania and New York.
"I would like to report to you that it is with your help and your wholehearted support that the lives of thousands of poor but bright students are being transformed,"Gajinder Singh Ahuja, chair, SHDF, told guests. "You are directly responsible for fulfilling the dreams of these students. You are giving them a life of dignity. We need your help. They need your help."
Chief guest Sardar Surender Singh Kandhari, a business tycoon who is the driving force for building an ornate and impressive gurdwara in Dubai, United Arab Emirates, passionately appealed to the audience of over 550 to donate wholeheartedly to the cause of education. He announced his own donation of $100,000, the single-largest contribution in the SHDF's 15-year history.
Kandhari said, "Education is the only way to ensure that we keep our youth away from drugs and other social ills. SHDF's mission is a very crucial one and it is incumbent upon us to stand behind this vision.
A large number of guests announced generous donations. Sikh-American youth went around the tables collecting checks and pledges following an appeal by SHDF board members Rajwant Singh and Manmohan Singh Kumar, who were the emcees.
Jaspreet Kaur Ahuja, secretary general, SHDF, said, "Thanks to the generosity and spirit of seva of the Washington Metropolitan area Sikh Community, SHDF's mission of transforming lives through higher education continues unabated."
Rajwant Singh, outreach director, SHDF, said, "By far, this is the most successful event of the organisation in terms of dollar collection and engagement of the audience. This is also the largest donation ever received by the Diaspora community for higher education for students in Punjab."
Manmohan Singh Kumar, director special initiatives, SHDF, said, "The positive results of this noble effort will be seen in years to come."
In a citation that was read out at the event, Maryland Governor Martin O'Malley was commended the SHDF's 'commitment and support in providing educational opportunities to hundreds of needy students.'
Gurcharan Singh and Kamaljit Kaur Kanwal from Virginia, Ranvir Singh and Manjeet Kaur Achreja from North Carolina, Bhupinder Kaur Sachdeva from the United Kingdom, and Gunvir Singh from Northern Virginia were honoured for their commitments towards empowering the disadvantaged youth with higher education.
The event also featured a film with emotional testimonials from some students who had benefited from the SHDF's funds. There was also a video chat with Angrej Singh, who is an assistant professor in a Punjab university, after having completed his education thanks the SHDF scholarship.
Preetam Kaur Bhutani, 12, and Hana Kaur Mangat, 13, raised $2,500 -- through bake sales and other activities engaging children from American gurdwaras -- that will help five students go to college in Punjab.
'We have so far provided 3,418 scholarships, including 537 for the current academic year,' Gajinder Ahuja of the SHDF told the audience. "More than 1,100 of these children have already graduated and become doctors, engineers, scientists, computer, experts and the like. Many are working in companies such as IBM, Microsoft, Infosys, and other good companies."
Jaspreet Ahuja said the students supported by the SHDF are from truly needy backgrounds. Many are orphans or have terminally ill parents and some are children of farmers who committed suicide because of heavy debt. Most of them are from families whose incomes are less than a dollar a day per person.
The SHDF partners with the Delhi-based Nishkam Sikh Welfare Council to identify the bright students and to implement the scholarship program.
UK-based Punjabi singer Malkit Singh, the recipient of an MBE, performed at the gala.
Image: A snapshot from the event