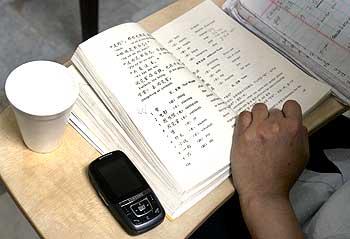 The Central Board for Secondary Education directive restricting use of mobile phones in schools has evoked mixed reactions with several top Delhi schools welcoming it while a section of parents and students saying it was "unnecessary".
"I totally agree with the CBSE. Students should not be allowed to carry mobile phones in the schools as they are source of distraction," Principal of DPS R K Puram, Shyama Chonna, said.
She also agreed with the CBSE directive that principal, teachers and other staff of the school should not be seen using mobile phones in class rooms, playgrounds and other parts of school premises.
The CBSE issued a circular to its affiliated schools asking them to restrict use of mobile phones by students as well as teachers as these phones can be serious cause of distraction and anxiety.
Director of Mother's International Indu Pillai said her school does not allow use of mobile phones by the students unless it is absolutely urgent.
"We do not allow use of mobile phones in our school campus. If any student brings it, then he or she will have to deposit it. We return the phones after the classes are over," she said, adding the teachers are also not allowed to take the phones to the classes.

What is your take on the issue? Should use of mobile phones by students in schools be restricted? Post your views below...

Photograph: Parth Sanyal/Reuters