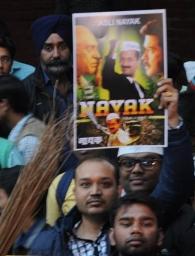 The Bharatiya Janata Party, which has won the maximum number of seats in Delhi polls, does not have the numbers for a simple majority in the assembly.
Political analysts fear that the national capital may now witness a spell of the Lieutenant Governor's rule for six months to a year.
But is that what the people of Delhi want?
Despite its stellar showing in the polls, the Aam Aadmi Party has made its reluctance to form the government, with external support from either the Congress or the BJP, clear.
Do you think the fledgling party is making a mistake? Should it respect the mandate bestowed on it by the people of Delhi and give governance a shot?
Or should the Lieutenant Governor end the political suspense by calling for another round of assembly polls?
We want to know what YOU, our dear readers, think about Delhi's political impasse.
Share your opinions, suggestions and comments in the message board below:
Image Courtesy: https://www.facebook.com/AamAadmiParty/