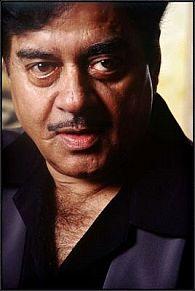 Actor-politician Shatrughan Sinha wants to build bridges between the Bharatiya Janata Party and the Janata Dal-United.

Talking to media persons at the Jaiprakash Narayan Airport in Patna, Sinha said that on the basis of his good personal rapport with Bihar Chief Minister Nitish Kumar, he would try to build bridges between the former partners.

He also termed Nitish as "prime ministerial material".

"Nitish Kumar is PM material. He is among the select few good and successful chief ministers in the country today," Sinha said.
He then quickly clarified that he was saying so as Kumar was among many leaders qualified for the post.
"At the end of the day one can become Prime Minister only after being chosen by the party and numbers in the elections," he said.
Sinha, who served as Union cabinet minister in the Atal Bihari Vajpayee-led NDA government, said he was not in favour of the BJP baying for Kumar's blood and calling the break up with JD-U a betrayal.
"One should not burn all bridges as politics is art of possibility and flexibility," the BJP MP later told PTI.
"If we are not together today it does not mean we cannot be together tomorrow also," he said.

He said he enjoyed a brotherly relationship with the state chief minister who also regarded him with great respect.

Sinha, who has been sulking after being denied a place in new election team of Narendra Modi, also praised Kumar for his development work in the state.