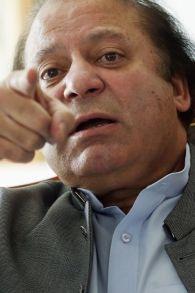 Prime Minister Nawaz Sharif on Wednesday removed a senior Pakistani official from his post for issuing advertisements to the media to congratulate the Pakistan Muslim League-N on its victory in the May 11 general elections.
Sharif was not satisfied with an explanation submitted by National Highway and Motorway Police chief Zafar Abbas Luk regarding an advertisement he had issued to several dailies and removed him from his post. The premier further directed authorities to take disciplinary action against Luk, officials said.
Sharif had earlier taken strict notice of advertisements issued by government departments and organisations to congratulate him and the PML-N on their victory in the polls. He said such advertisements caused a loss to the national exchequer.
Notices were issued to several government departments to explain why they had issued the advertisements. The PM directed authorities to present before him the replies submitted by the national highway and motorway police and the national bank of Pakistan.
While criticising the advertisements, Sharif acknowledged the love and affection of the country and the emotions of his supporters but said he wanted them to "concentrate on nation building rather than sending congratulatory messages".
Sharif, 63, recently became premier for a record third term after the PML-N swept the general elections. He has vowed to curtail unnecessary spending as part of his government's efforts to revive the stagnant economy.