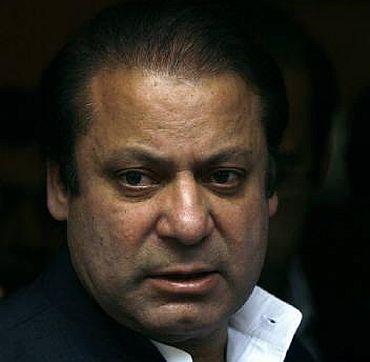 China's growing concern over the existence of terror training camps in Pakistan, establishment of an energy corridor and firming up of nuclear energy cooperation will come up for discussion during Prime Minister Nawaz Sharif's talks with the Chinese leadership in Beijing.
Sharif, who arrived in Beijing on Wednesday, has opted to visit China for his maiden official foreign trip since assuming office in June as he struggles to address Pakistan's crippling energy crisis and revive its ailing economy.
Sharif is accompanied by a 11-member high-level delegation that include senior ministers, Punjab and Balochistan Chief Ministers and top officials.
China's restive Xinjiang province bordering Pakistan occupied Kashmir was rocked by violence recently, claiming the lives of 35 people. The violence in the Muslim-majority province brought to the fore Beijing's concerns that the Uygur militants of the separatist East Turkiministan Islamic Movement are being trained in terror camps in Pakistan.
Chinese official media highlighted Syrian government's allegations that Uygur militants recruited by ETIM, an affiliate of Al-Qaeda were being trained in Pakistan to fight to oust Assad government in Syria.
One trained militant was caught in Xinjiang few days ago. "The recent resurgence of attacks in Pakistan and Xijiang province probably related to the uncertainty in Afghanistan which gives greater reason for China and Pakistan to cooperate more closely to deal with common threat of terrorism," current affairs commentator Victor Gao Zhikai, told the state run CCTV.
"If the Karzai government and Taliban failed to come to terms, the situation in Afghanistan will deteriorate and refuel terrorism and extremism in this part of the world," the expert said.
Answering a question on the issue, Chinese foreign ministry spokesperson Hua Chunying said, "Regarding security situation in Pakistan, we know that Pakistan has made huge and hard efforts to fight terrorism, to maintain national security."
"We believe that the international community should help Pakistan overcome difficulties and meet challenges," she said. "With regard to Xinjiang violent terrorist attacks was plotted and carried out by separatist forces, terrorist forces in and outside China," the spokesperson said.
Asked whether any agreements would be signed to build new nuclear reactors, she said "during his stay in China, leaders of the two countries will discuss relevant issues. We hope his visit could boost or inject new impetus in our practical cooperation in relevant field
"I cannot make a prejudgement here about the agreement we are going to sign," the spokesperson said. China plans to build two 1000 mw nuclear plants in addition to four 350 mw reactors it already committed." Ahead of his visit to China, Sharif told Chinese media that clinching the proposed economic corridor linking Pakistan's GwadarPort with Xinjiang province would top his agenda.
Sharif said the details of a new economic corridor to Xinjiang will connect the resource-rich western region with Gwadar port, would be a "game changer" with potential to "change the fate" of the region.
"The economic corridor taking off from Kashgar in Xinjiang to Gwadar is a game changer as far as this region is concerned," Sharif said.
"We expect the corridor will become a very important economic hub," he said. During Sharif's visit, China will also be hosting Defence Minister A K Antony bringing to the fore, China's diplomatic engagement with arch rivals India and Pakistan considering its decades-old close and all weather ties with Islamabad.
Antony will arrive in Beijing on Thursday for talks with his Chinese counterpart as well as Premier Li Keqiang.