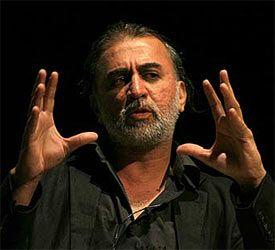 Tehelka Editor Tarun Tejpal faces possible arrest after Goa police booked him on rape charge following an allegation by a colleague that he sexually assaulted her during an event a fortnight ago.
A special investigating team of the Goa crime branch will visit Delhi to question Tejpal and police are not ruling out his arrest.
"An FIR has been filed on charges of rape and outraging of modesty (against Tejpal). This is one part of the process of investigation and law will take its own course," Director General of Police Kishan Kumar said in Panaji.
The charges relate to Sections 376 (rape), 376 (2) (rape by a person of a woman in his custody taking advantage of his official position) and 354 (outraging modesty) of the Indian Penal Code, he said.
Asked whether Tejpal would be arrested, the DGP said, "As I told you, this is a matter of investigation. Let us leave it to investigating officers. It is a process under law which has logical consequences. I cannot say how the IO will do."
Goa Chief Minister Manohar Parrikar made it clear that his government will show "no tolerance for this type of crime and we should crack down on such high-profile crimes".
He said Goa police has not received any response from Tehelka to the letter sent to it seeking details of the alleged incident.
"I am not saying someone is guilty but the girl's email (to her office) is explicit," he said and commended her for showing the courage to report the incident.
While Tejpal issued a statement offering to extend the "fullest cooperation" to the police and all other authorities, the magazine's Managing Editor Shoma Chaudhury said they would not go to police on the issue as it was for the victim to decide on it.
Facing allegations that Tehelka was indulging in a cover-up, Chaudhury defended her actions in the matter, saying she had confronted Tejpal about the incident "very, very angrily", after which he stepped down from his post for six months and apologised to the victim.
"The right to go to police is hers (victim's). I am not going to the police on my own," she said, adding she will cooperate in the probe.
"If it is hard for me to cooperate, then I will step down," Chaudhury said.
She came under a fresh attack when she referred to her conversation with Tejpal, who, she said, has a "different version" of the incident, which she claimed to have overruled.
"I do feel a sense of outrage and betrayal but he has a different version," she said.
Asked if Tehelka. which claims to have set high standards via its investigative reports, was following double standards in this case, Chaudhury said a three-member committee has been set up which will hear both the sides.
"You are jumping to conclusions that it is sexual assault and rape," she shot back.
Meanwhile, the Bharatiya Janata Party today said suggestions that the victim can opt for an in-house inquiry by Tehelka and not go for a criminal probe is an "accused-friendly" approach and insisted that the two options should complement each other, instead of being alternatives.
Leader of the Opposition in Rajya Sabha Arun Jaitley issued a statement on the issue and emphasised that everybody should encourage victims to depose "truly and faithfully" as punishing an offender acts as a deterrent in the larger interest of society.
Referring to debates in various news channels on the Tejpal issue, Jaitley said "regretfully, some participants provided an escape route for the accused. They argued that the victim has a freedom of choice whether to pursue her complaint before the in-house inquiry or pursue the criminal investigation."
The eminent lawyer claimed a criminal offence is not just a crime against a victim but also a crime against society.
"This is precisely why the State pursues a criminal action. The public exchequer pays for it. There is a larger public interest in punishing a criminal. A departmental or an in-house inquiry and a criminal trial complement each other. They are not alternatives," Jaitley said.
"Public interest must always prevail over private embarrassments. The 'alternative option' theory is an accused-friendly approach," he added.