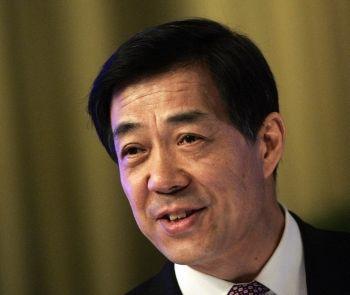 Communist China's biggest political trial in decades involving disgraced top politician Bo Xilai ended on Monday on an acrimonious note, with prosecutors demanding "severe" punishment for the defiant pro-Maoist leader who accused a key official witness of having illicit relations with his wife.
"The defendant's crimes are extremely serious. He pleaded not guilty to the charges, and there are no extenuating circumstances suggesting lighter punishment", prosecution told the court in Jinan in east China's Shandong province, winding up five days of dramatic hearing against 64-year-old Bo.
"It must be dealt with severely according to the law," the prosecutors said, sparking speculation that Bo could either get death sentence, suspended death sentence or life sentence.
Bo, a politburo member of the ruling Communist Party of China and the head of the Chongqing city was sacked last year after allegations of his wife Gu Kailai's involvement in the murder of a British businessman Neil Heywood in November 2011 surfaced early last year.
He was also removed from the ruling party following allegations of bribery, embezzlement and abuse of power against him.
The Jinan intermediate court, which heard the case regarded as the most sensitive after the 1981 'Gang of Four' trial' involving Mao Zedong's widow,, said its proceedings formally ended today after five days and the verdict would be pronounced at a later date.
Observers say Bo's defiant rebuttals denying all charges of bribery, embezzlement and power abuse against him may attract death penalty making him the first leader to go to gallows in recent times.
For his part, Bo hit back on Monday making a sensational disclosure that Wang Lijun, who worked as police chief under him in the Chongqing city and defected to the US consulate there alleging reprisals from him, had an illicit affair with his wife Gu.
Debunking Wang's claims, Bo, a hardline Maoist and critic of CPC reformist ideology, told the court Gu and Wang were "like glue and paint".
"In fact they had a very special relationship," Bo said, referring to 54-year-old Gu and Wang.
"I was very upset about it," the South China Morning Post quoted Bo as saying.
Wang, 53, had claimed he ran into the US Consulate in Chengdu fearing reprisals from Bo after the Communist leader punched him on his face when he was informed about Gu's involvement in Heywood murder early last year.
Bo said the real cause of Wang's defection is that he found out about an illicit relationship between Wang and Gu and caught him while confessing his feelings for her.
"The real reason, as Wang has confessed himself, is that he had hidden feelings for Gu Kailai. He was consumed with these feelings and couldn't control himself. He had also confessed to Gu Kailai, he said so in his letter to Gu Kailai," Bo said.
"He, (Wang) slapped himself eight times at the time, and Gu Kailai told him he was a little abnormal. Wang replied that he had been abnormal, but normal now. But then I appeared suddenly. I took things away," Bo said.
"He knows my personality. He invaded my family, invaded my basic emotions. This is the real reason (why) he defected. Wang Lijun wants to muddy up the water," he said.
Anticipating family tussle, Bo's US-based son Bo Guagua had appealed to the Chinese government not to use his future and security as "barter" to make his mother testify against his father.
"If my well-being has been bartered for my father's acquiescence or my mother's further co-operation, then the verdict will clearly carry no moral weight," he said.
Defending himself, Bo today said about his wife that "all the charges against me in here, they show that a very important witness in regards to my guilt is my partner, my wife Gu Kailai. Letting a wife give evidence against a husband is an important feature of this trial".
Bo alleged that Gu is speaking against him hoping to come out of her suspended death sentence.
Both Gu and former Railway Minister Li Jizhun convicted for corruption, got suspended death sentences after admitting to their crimes.
Gu, one of the witnesses against Bo, was sentenced to death with two years reprieve last year for murdering Heywood, stated to be the handler of Bo's overseas properties and investments.
Bo went to lengths to defend himself, even washing the dirty linen involving sex scandals of his family in public to rebut abuse of power allegation which primarily related to Wang's defection to US Consulate.
Image: Bo Xilai
Photograph: Reuters