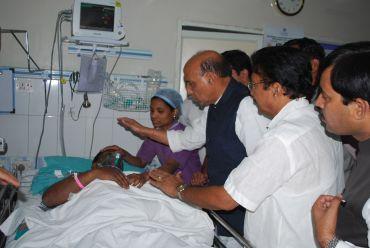 Accusing the United Progressive Alliance government of being soft on Pakistan-sponsored terror, Bharatiya Janata Party on Friday suggested that the diplomatic relations with the neighbouring country be scaled down "for the time being".
"There are no two opinions in saying that Pakistan-sponsored terrorism is responsible for terror attacks in the country. Hence, there is no point in continuing the confidence building measures. We feel that the CBMs should be stopped for the time being and the diplomatic ties scaled down," BJP president Rajnath Singh told reporters after visiting the twin blast sites in Hyderabad.
He also visited the injured victims who are undergoing treatment in different hospitals.
Alleging that the Congress-led Government at the Centre lacked the conviction to root out terrorism, he said it should take the task of checking terror as a challenge.
Singh accused the Centre of failing to provide specific intelligence inputs to the state governments about possible terror strikes.
Maintaining that Hyderabad, which has seen three major terror attacks since 2007, has emerged as the epicentre of Pak-sponsored terrorism, the BJP leader said the Centre needs to pay special attention to the matter.
Replying to a query, he claimed that considerations of vote bank politics could be the reason for the government going soft on terror.
Image: BJP chief Rajnath Singh visits victims of the twin blasts at a hospital in Hyderabad on Friday
Photograph: SnapsIndia