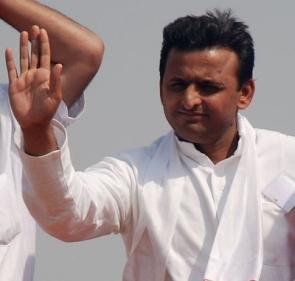 The Supreme Court on Wednesday held the Uttar Pradesh government led by Akhilesh Yadav prima facie responsible for negligence in preventing communal violence in Muzaffarnagar and adjoining areas.
A bench headed by Chief Justice P Sathasivam passed a slew of directions for proper investigation in the cases and for rehabilitation of victims of the communal clashes.
"We prima facie hold the state government responsible for negligence in preventing such incidents," it said.
But the court added that the state government was taking proper action and had constituted a special investigation cell for conducting a probe into various cases, so there was no need for a direction for a probe by the Central Bureau of Investigation and the Special Investigation Team at this juncture.
It directed the state authorities to bring to book all accused persons irrespective of their political affiliations.
It also directed that the victims and their family members be given protection by the state government till the completion of trial.
The bench passed the order on a batch of petitions filed by various people, including riot victims, seeking its direction to the state government for proper probe into the cases and for a CBI investigation.
The petitions had sought the court's direction to the Centre and Uttar Pradesh government to find out the reason behind the communal clashes in the state.
The PILs had also sought that the affected persons should be properly rehabilitated and the culprits behind the violence must be brought to book.
The communal violence, which had broken out on September 7 last year in Muzaffarnagar and adjoining towns, had claimed over 40 lives. It left 85 others injured and rendered 51,000 people, mostly Muslims, homeless.
Image: Uttar Pradesh Chief Minister Akhilesh Yadav