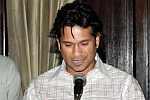 A plea for transfer of two petitions pending in different high courts to the apex court against nomination of cricketer Sachin Tendulkar to the Rajya Sabha was dismissed on Monday by the Supreme Court.

A bench headed by Chief Justice Altamas Kabir said, "This is not a fit case to be entertained."

The bench also comprising justices S S Nijjar and J Chelameswar expressed its displeasure that the matter has been brought to the apex court. "We are dismissing it," the bench said.

The apex court's order came on the plea of former Delhi MLA Ram Gopal Singh Sisodia for the transfer of the two petitions pending in the Delhi and the Allahabad high courts against nomination of Tendulkar to the Rajya Sabha.

Sisodia had moved the apex court saying there is likelihood of conflicting judgements from the two high courts. He had earlier challenged Sachin's nomination before the Delhi high court on the ground that the cricketer does not have any of the qualifications prescribed under the Constitution for being nominated to the Rajya Sabha.

He had contended that Constitution allowed the government to nominate people to the Rajya Sabha only from four categories -- arts, science, social science and literature. The selection of a sportsperson was unconstitutional, he had said.

While refusing to restrain Sachin Tendulkar from taking oath as a Rajya Sabha member, a division bench of the Delhi high court on May 16 had asked Additional Solicitor General A S Chandhiok to get instructions from the government as to whether the sports category was covered under the Constitution for nominating a sportsperson to the Rajya Sabha
Earlier on May 14, the Supreme Court had refused to quash 39-year-old batting maestro's nomination to the Upper House and had asked Sisodia to rather approach the high court with his plea.