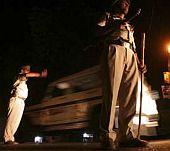 The Supreme Court on Monday came down heavily on states which have not filed their responses to separate petitions seeking implementation of police reforms and recent police excesses in Bihar and Punjab.
"We normally do not summon officers. The governments think that they can play with the court's orders. They must respond to what courts have asked them to respond," a bench of justices G S Singvi and Kurian Joseph said.

"Sorry for the inconvenience. We will take up the matter for hearing on day-after-tomorrow," Justice Singhvi said and asked the states, which have so far not responded, to file their affidavits by Tuesday evening after supplying advance copies to Attorney General (AG) G E Vahanvati, senior advocate Harish Salve and others.
"Those states/officers, who have not filed the affidavits, should understand that they have to file them by Tuesday evening or the court may have to summon senior officers to assist the court," the bench said after the AG said only eight states have so far filed their replies.
The court had earlier taken suo-motu cognisance of news reports on separate incidents in which a woman was beaten up in Punjab and some lady teachers were assaulted in Patna during an agitation.
It had issued notices to the Centre and states saying the beating up of innocent and unarmed people was "animal behaviour".

During the hearing, the Attorney General, who along with Salve and others, is assisting the court, said the affidavit filed by the Bihar DGP is "conspicuously" silent over the assault on women teachers who were sitting inside a tent.


"It is just merciless. One can understand the use of force if there is unlawful assembly. But here teachers have been beaten up mercilessly when they were sitting in a tent," the court said.

There is no explanation why women were beaten up, the court said and criticised the practise of justifying such incidents to the media by the officers concerned.
"The moment such wrong is committed, some police officers go on TV and try to justify the police action," it said, adding that even after 66 years of independence, "the helpless and ladies" are being beaten up.

"The ailment starts at the grassroot level. At the recruitment level, there are extraneous considerations," the court said.

The court fixed the matter for hearing on April 3.

Earlier, the court had slammed Bihar and Punjab governments for recent incidents of police excesses and issued notices to the chief secretaries, the home secretaries and the DGPs of all states and police commissioners of UTs on implementation of its earlier directions in the Prakash Singh case on police reforms.