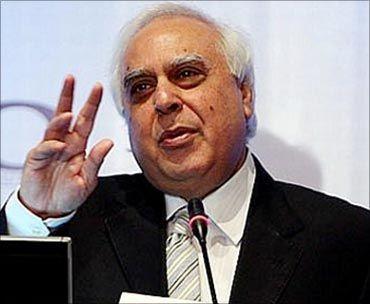 Hailing Supreme Court judgement on auction of natural resources, Telecom Minister Kapil Sibal Thursday said the apex court has brought "constitutional clarity" on the issue.
Stating that the Court has upheld the government's stand, Sibal said it has opined that auction was not the only way for allocating natural resources.
Institutions like CAG "might have perhaps unwittingly, erroneously interpreted the SC judgement relating to the 2G case and thought that all natural resources must be auctioned," he said. "The SC has provided Constitutional clarity today and we welcome it."
Welcoming the SC decision, Commerce Minister Anand Sharma said the judgement "vindicates" the position that the government had taken.
"When a state has to take decisions, public good has to be kept in mind... The SC has also upheld, that it is public good which is important, and revenue maximisation is subservient to that, not the other way round," he said. "And all national resources (are) not meant to be auctioned."
Sharma said there has been lot of confusion, some deliberately created, and also fed by some elements of political forces who are opposed to the government.
 "...there was never any doubt in my mind, or in the mind of my colleagues of the government, (that) there was no constitutional mandate for auction," he added.
The Supreme Court has said that the auction cannot be the only method for allocating natural resources, and profit maximisation cannot be only basis for it.
The apex court also said it cannot prescribe or proscribe method of allocation of natural resources but can undertake judicial scrutiny on case to case basis.
Reacting to the judgement, Sibal said the judgement clearly states that policy issue is entirely within the domain of the executive, "especially in the context of the economic policies".
However, the Court can intervene if the decisions taken pursuance to the policy are not implemented properly, he said.
"Clearly any implementation of the policy, if it falls foul of the constitution, the Court has ample jurisdiction to deal with it by striking down those decisions," he said.
This is exactly what the government's position was earlier and this is exactly what the court has said, so the government's position has accordingly been fully vindicated, Sibal added.
The government will go ahead with the auction of spectrum in November and today's judgement in no way affects the February order of the apex court, he said.
"...the govt was in no way backing away from the implementation of the SC judgement in respect to cancellation of 122 licences... We are moving ahead through the process of auction and hopefully the auction will take place sometime in November-December," Sibal added.
With inputs from Onkar Singh in New Delhi
Image: Union Telecom Minister Kapil Sibal