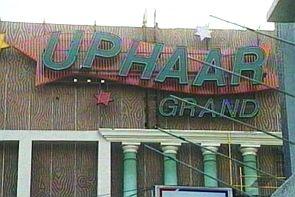 The Supreme Court on Wednesday held real estate barons Sushil and Gopal Ansal guilty in the 1997 Uphaar cinema tragedy that claimed the lives of 59 people saying they were more interested about making money than ensuring safety of the cinegoers.
A two-judge bench, however, disagreed over the quantum of punishment to be given to them and the issue has been referred to a three-judge bench to pronounce a final verdict on it.
While Justice T S Thakur retained one-year jail term of Sushil and Gopal Ansal as imposed by the Delhi high court, Justice Gyan Sudha Misra reduced the jail term to already undergone by Sushil considering his age but enhanced the sentence of Gopal to two years.
Justice Misra also imposed a fine of Rs 100 crore on the Ansal brothers to be used for construction of trauma centre and super-speciality hospital.
The bench, however, was concurrent in its finding that there was contemptuous disregard of civic laws on the part of Ansals that led to the tragedy as they were more interested in making money than ensuring safety of people.
The bench passed the order on cross appeals filed by CBI, The Association of Victims of Uphaar Fire Tragedy and Ansals challenging the Delhi high court order.
The Ansals had challenged their conviction and maintained they were in no way responsible for the incident as the fire mishap they claimed was on account of the DVB transformer.
The CBI filed the appeal challenging the alteration in conviction and reduction of sentence by the Delhi high court on December 19, 2008. The sentence for the Ansals was reduced to one year as against the two-year sentence imposed by the sessions court.
The CBI had contended that the high court had "erroneously" altered the conviction and reduced the sentence despite the fact that the sessions court had on November 20, 2007, rightly held some of them guilty for offences under Sections 304 (culpable homicide not amounting to murder) and the Ansal brothers under Section 304A (causing death due to rash and negligent acts) besides other sections.

AVUT had also approached the apex court seeking enhancement of sentence to Ansals.