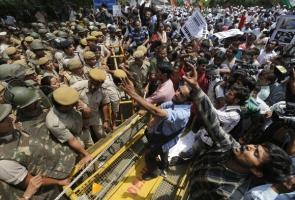 Taking strong exception to a police officer slapping a young girl during a recent protest against the rape of a minor, the Supreme Court on Thursday sought an explanation from the Delhi police chief on the incident.
A bench headed by Justice G S Singhvi directed the police commissioner to file an affidavit to explain why a young girl was beaten up during the protest against the rape of five-year-old in Delhi.
Also taking cognisance of another incident of police brutality in Aligarh, where a 65-year-old woman was assaulted, the bench directed the Uttar Pradesh chief secretary to file an affidavit on the incident.
Describing such incidents of police excesses as an "insult to the country", the apex court said they should have been prevented.
"Even an animal won't do what the police officers are doing everyday in different parts of the country," the bench said while referring to the Aligarh incident.
"Is your government left without shame," the bench asked Gaurav Bhatia, the counsel appearing for the Uttar Pradesh government.
The court, while slamming the state government, also recalled the resignation by Lal Bahadur Shastri from the post of railway minister, taking moral responsibility following a railway accident.
"Where has your sense gone," the bench said, adding, "How can police officers beat an unarmed lady?"
The court made the observations with regard to a recent protest at a Delhi hospital -- during which an ACP slapped a young girl at least four times. The ACP was later suspended.
The second incident which the bench took note of was reported from Aligarh -- where an elderly woman was assaulted by the police during a protest against the alleged rape and murder of a six-year-old girl.