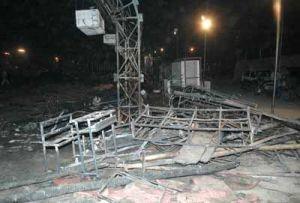 The Supreme Court on Thursday appointed a one-member commission headed by its ex-judge S B Sinha to inquire into 2006 Meerut fire tragedy in which around 60 people died and directed the Uttar Pradesh govt to pay an interim compensation of Rs 5 lakh each to the family members of the deceased.
A bench headed by Justice Dipak Misra asked the commission to submit its report by January 31, 2015.
It also directed the state government to pay Rs 2 lakh to the seriously injured and Rs 75,000 to persons who suffered minor injury in the incident which took place on April 10, 2006.
The court said that the government shall deposit the compensation amount with the District Judge of Meerut who will disburse the amount to the fire tragedy victims.
It passed the order on a petition filed by one Sanjay Gupta who had lost five of his family members in the incident.
He pleaded that the administration had demonstrated utterly callous attitude and even the bodies of the victims were allegedly bulldozed at the instance of the top officials of the district administration including the then District Magistrate.
The bench also directed the organiser of the consumer electronic fair to pay Rs 30 lakh with the Supreme Court registry in order to hear its plea challenging the maintainability of Gupta's plea.
Image: Steel frames and airconditioners of the Pandal for a consumer goods fair in Meerut which caught fire Photograph: Sondeep Shankar/Saab Pictures