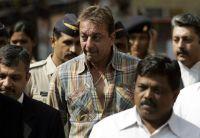 Actor Sanjay Dutt was very tense since Wednesday as he waited for the Supreme Court judgement on the 1993 Mumbai blasts case the next day.
The apex court on Thursday upheld the actor's conviction in the 1993 Mumbai blasts case and his sentence was reduced from six to five years in jail. Dutt, who has served 18 months in jail, will now have to spend another three and half years in jail.
"It is so sad that he will have to go to jail," Sameer Hingora, Sanjay's friend and fellow convict in1993 bomb blasts case, told rediff.com on Thursday.

Sameer said Sanjay talked to him on Wednesday and all the convicts of 1993 bomb blasts case were very tense and waited for the verdict with heavy heart.
While talking to rediff.com Sameer repeatedly said, "We are feeling very sad today".
Dutt, in his confession after his arrest in 1993, had said that gangster Abu Salem visited his home in January that year with Hingora and Hanif Kadawala, proprietors of Magnum Video. They gave him three AK-56 guns, but he kept one for his and his family's safety, he said.

Hingora and Kadawala were associates of fugitive gangster Dawood Ibrahim, Sanjay had initially told the police. The actor later retraced the statement.
Hingora said, "I definitely regret that I showed (Salem) the address of Dutt. I never had any AK 56 rifle. I made a small mistake and I paid for it. My only crime was that I drove them to Sanjay's residence. I regret it."

Hingora has been sentenced little more than six years of imprisonment, but since he has already undergone the jail term of around that time he will not be imprisoned again. He thanked God that the Supreme Court has given a verdict under which he will not be arrested again.
"I'm feeling relieved," he added.
"Sanjay will not be able to escape jail term after Thursday's verdict. He will have to be in jail for 30 months at least even if he gets some months of pardon for good behaviour," he pointed out.
Photograph: Reuters