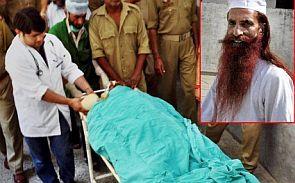 Pakistani prisoner Sanaullah Ranjay, who was seriously injured after a scuffle with a fellow inmate in a Jammu jail last week, died in Chandigarh on Thursday.
His body was flown back to Pakistan by a special flight of the Pakistan International Airlines.
The body of 52-year-old Sanaullah was handed over to officials of the Pakistan embassy after completion of the post-mortem by a Medical Board at the Post Graduate Institute of Education and Medical Research and various formalities by local authorities.
A special PIA plane had arrived from Pakistan to take the body back, an official spokesman said.
The media was not allowed inside the air terminal when the body was being taken into the aircraft.
Two relatives of Sanuallah -- brother-in-law Mohammed Sehzaad and nephew Mohammed Asif -- who arrived in Chandigarh on Tuesday from Sialkot, also travelled in the special plane.
"Sanaullah was declared dead around 7 am today. He had multiple organ failure due to a severe head injury. The team of doctors headed by Professor Y K Batra tried their best to revive him," a Medical Bulletin issued by the Post Graduate Institute of Education and Medical Research said.
He was injured in a scuffle with an Indian inmate in the high security Kot Balwal jail in Jammu on Friday and rushed to the PGIMER in an air ambulance.
The assault came a day after the death of Indian prisoner Sarabjit Singh, who was brutally attacked by fellow inmates in Lahore's Kot Lakhpat Jail.
Sanuallah was serving a life term after he was convicted under provisions of Terrorist and Disruptive Activities (Prevention) Act following his arrest in 1999.
Pakistan demanded that India should conduct "a fair and impartial inquiry" into the prisoner's death.
"We will also demand from the government of India to immediately release 47 prisoners of Pakistan who have already completed their sentences," the Commission Press Attache said.
An official spokesperson in the ministry of external affairs earlier said India will facilitate Pakistan's request to repatriate the body of Sanaullah and will provide necessary assistance.
In view of the tragic events, including the killing of two Indians in Pakistani jails and the Sanaullah incident, India has proposed that the officials of the two countries meet and take forward the recommendations of a judicial committee on humane treatment of prisoners, he said.
A Pakistani response to the proposal is awaited, the spokesperson said.