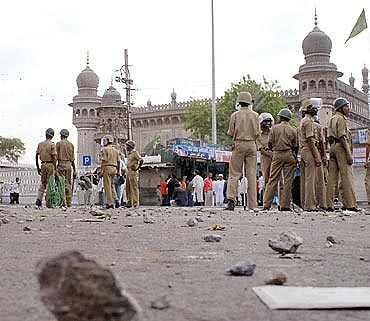 The National Investigation Agency says that with the arrest of Rajendra Chowdhary the probe in the Samjhauta Express, Mecca Masjid and Ajmer blasts is almost complete. Vicky Nanjappa reports   


The National Investigation Agency, which arrested Rajendra Chowdhary, a key suspect in the 2007 Samjhauta Express blast, which killed 68 people -- mostly Pakistanis, will also probe his role in the Mecca Masjid blast case.
An officer in the NIA told 
rediff.com
, "He (Chowdhary) will be taken to Hyderabad and for this purpose a prisoner's transit warrant is being readied. We will need to interrogate him in connection with the Samjautha case first. His role in the Ajmer blast too will be studied, but top on our priority for now are the Samjautha and Mecca Masjid cases."
According to the NIA, the module, which carried out the Ajmer, Samjautha and Mecca Masjid blasts, is the same. Hence the arrest of Chowdhary becomes crucial to all the three cases.
The terror probe in all the three attacks is almost complete with the arrest of Chowdhary, the NIA said. However, we are yet to nab Ramji Kalasanghra and Sandeep Dange, who are very crucial to the case as well. The duo is suspected to be hiding in Nepal, investigators pointed out.
The NIA had received a lot of information in the Mecca Masjid case following the confessions by Swami Aseemanand. But after he withdrew the statements the trial
hit a roadblock.
The investigators, however, have picked up various leads from his confession and are carrying forward the probe. It is Aseemanand's statements that provided clarity to the Mecca Masjid case.   
For the NIA, cracking this case was a tough task. First, Aseemanand retracted his confession and then two other accused -- Devendra Gupta and Lokesh Sharma -- were granted bail.   
However, the NIA vehemently opposed the granting of bail before the Andhra Pradesh high court and the court later cancelled the bail.
The NIA had told the court that there was a lot of time that was already lost in this case and the bail would lead to further destruction of evidence.
According to the probe agency, major players in the Mecca Masjid case are Rajendra Chowdhary, Swami Aseemanand and Bharat Mohan Lal Rateshwar, who was arrested in November last year. Another accused Sunil Joshi was killed.
The case took a twist after the murder of Joshi. It appears that he was murdered by his accomplices, as he had threatened to leak out information about the blasts.  There is an independent probe ongoing in connection with the murder and Chowdhary is likely to have some knowledge, NIA officers said. 
Chowdhary was arrested in Madhya Pradesh. He has been named in the NIA chargesheet and has been accused of planting the bomb on the Samjautha Express, apart from conducting a survey of the targets. He is also suspected to have conducted similar surveys in Ajmer and Hyderabad, the NIA pointed out.
Image: Fourteen people were killed in the Mecca Masjid blast in Hyderabad on May 18, 2007