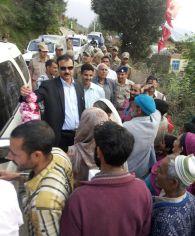 Former minister of state for home, Sajjad Ahmad Kitchloo who had resigned in the aftermath of the August 9 Kishtwar communal clashes has been re-inducted in the Jammu and Kashmir council of ministers on Saturday.
Kitchloo's re-induction follows a clean chit given to him by the one-man commission appointed by the state government to probe the riots in the mountainous Kishtwar town of Jammu region on the day of Eid-ul-Fitr and fix responsibility.
Kitchloo was present in the town when the riots broke out immediately after the Eid prayers. The one-man commission was headed by Justice (Retd) R.C.Gandhi.
The commission has, however, blamed the district administration for lapses in handling the situation.
The commission has recommended inclusion of local Muslims in the village defence committees formed for protection of the local villages from militants.
Kitchloo will be administered oath of office by the state governor N N Vohra on Saturday afternoon.