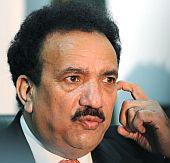 Pakistan on Saturday rejected the sixth dossier received from India, saying that the contents provided in it were not enough to arrest or prosecute Hafiz Saeed, the main accused in the November 26 Mumbai terror attacks in a court of law and asked New Delhi to provide more evidence in connection with the case.  
Addressing a news conference in Islamabad after meeting Indian High Commissioner Sharad Sabharwal, Pakistan's Interior Minister Rehman Malik said: "We want more evidence from India so that the case can be made solid and tangible."
"We have submitted all information available to us, but we want more information to make our case solid," said Malik, adding that in the absence of enough evidence, the court would exonerate Saeed for lack of authentic proof.
"We need forensic experts' testimony on various evidences," Malik said, adding: "We are fighting terror in Pakistan. We have been sincere in fighting it. We have made progress in 26/11 probe despite sketchy information provided by India," Malik also said. 
Saying that legal proceedings against Saeed were on, Malik revealed details of the Pakistan government's efforts made so far.
He said that so far 101 witnesses had deposed, 126 items had been seized as incriminating evidence, and 25 hideouts had been identified. Bank accounts connected to the case have also been traced and identified, and the boats used (for the attacks) have been discovered, he added.
Sources in the Indian government said Rehman's rejection of the sixth dossier clearly indicated that Pakistan is not serious about taking the 26/11 probe to its logical conclusion, and reiterated their demand for the arrest and prosecution of all masterminds and accused in the case.
Earlier, during his meeting with High Commissioner Sabharwal, Malik reportedly discussed the progress being made by Pakistan in the 26/11 probe.
Malik said if there is conclusive evidence before the establishment, charges would be framed against the seven accused.
Earlier, an anti-terrorism court here, which is conducting the trial of seven suspects linked with the Mumbai terror attacks of November 2008, including LeT operations commander Zakiur Rehman Lakhvi, on Saturday adjourned the hearing of the case till September 26.
No other details of the proceedings were available due to a strict media blackout imposed by Judge Baqir Ali Rana, who is conducting the trial inside the high-security Adiala Jail in the garrison city of Rawalpindi due to security reasons.
The hearings are being conducted in-camera and Rana has issued a gag order, citing national security concerns as well as the security of the accused and witnesses.
It is still not clear whether the seven accused have been formally indicted, though authorities have prepared two chargesheets against them.
Lawyers representing the accused said they had been directed by the judge to strictly adhere to the gag order and not to discuss the proceedings with the media.
Five LeT operatives Lakhvi, communications expert Zarar Shah, Abu al-Qama, Hamad Amin Sadiq and Shahid Jamil Riaz being tried by the anti-terrorism court.
They have been accused of providing training, financial support, accommodation, equipment and communications gear to the 10 terrorists who attacked Mumbai last year.
No details are available of the charges against the two other suspects, Jamil Ahmed and Younas Anjum.
Meanwhile, a lawyer representing Jamaat-ud-Dawa chief Hafiz Mohammad Saeed has said the two cases filed against his client are very weak and not sustainable in any court of law.
Saeed's lawyer A K Dongar said the charges against his client were ridiculous. Dogar was referring to the two cases filed by Faisalabad Police -- one relating to his sermon at the Royalton Hotel in Faisalabad's Canal Road on August 27, and second for a speech at an Iftar dinner at Peoples Colony, Jaranwala Road Faisalabad on August 26, where he urged people to launch a holy war against those who''ve suppressed their rights.
"I have gone through both the FIRs against Saeed thoroughly. The charges against my client are very weak. He has expressed his views like any other Pakistani," claimed Dogar. 
According to the Times Now television channel, two cases were registered against Saeed and one against his close aide Abu Jandal at police stations in Faisalabad, some 100 kilometers from Lahore.
On Friday, Indian Home Minister P Chidambaram said Islamabad must question Saeed, notwithstanding the fact that two cases had been filed against him that were not related to that tragic event.
Chidambaram said the authorities should avail the opportunity of questioning Saeed on the 26/11 episode also, once he is arrested.
'I am told that it's (FIRs agaisnt Hafiz Saeed) not related to the 26/11 attacks. Even if they apprehend him on some other charge, and use the opportunity to question him on his involvement in 26/11 attacks, that would be a significant progress in the case. I hope that they question him on 26/22 too,' Chidambaram told the channel after his US visit.
Insisting that Saeed should be tried for his involvement in the 26/11 terror attack, Chidambaram said: 'There is no trial there. The trial has not started there. In fact, my complaint has been even before I visited the US, that we don't have a date set for the trial and to best of the my knowledge, the first witness has not been examined.'